He is now known as the rapper who refused Beatles legend Sir Paul McCartney entry to his Grammys after-party but Tyga has gone to great lengths to explain the embarrassing mix-up. McCartney, 73, was stunned when he tried to get into the bash held at The Argyle in Hollywood on 15 February but it turns out he arrived at the wrong party.
Accompanied by his wife Nancy Shevell, singer Beck and Foo Fighters drummer Taylor Hawkins, McCartney was seen talking to security outside the nightclub where Tyga was performing. In footage obtained by TMZ, a shocked McCartney is heard joking after being denied entry: "How VIP do we gotta get? We need another hit."
Tyga, 26, insists he had no idea McCartney was trying to gain entry and told late night talk show host Jimmy Kimmel: "I woke up to a series of texts and TMZ, it was pretty crazy. I had no knowledge, I was inside performing. I wish I knew he was outside, I would went out there with the mic and brought him in. Tweet the fire marshall, don't tweet me."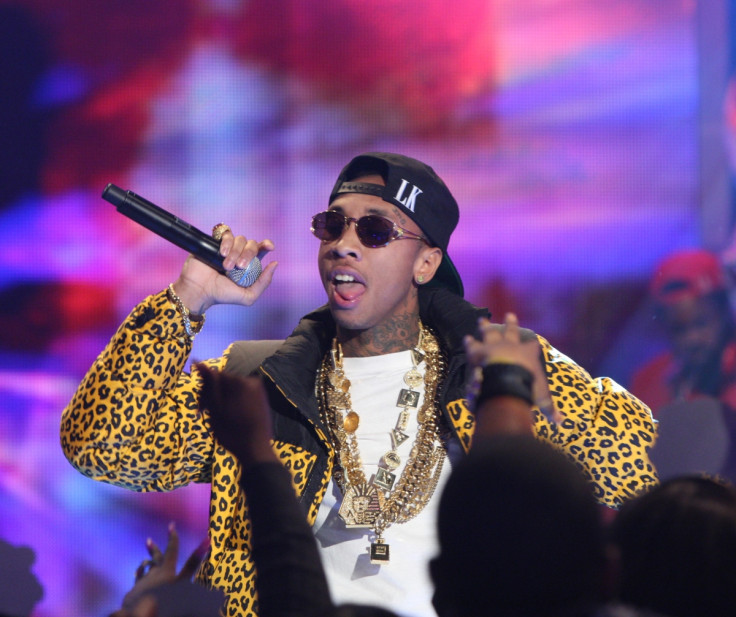 "I got paid to perform, I really didn't have any knowledge. I just showed up and walked in. I tweeted [McCartney] but I don't think he's seen my tweet. I'm on tour and I've actually got a show coming up on 26 February at the Nokia Theatre, Paul, if you're watching this I would love you to come. I'll personally walk you in."
The Rack City rapper added on Twitter: "Why would I deny @PaulMcCartney stop it. He's a legend. I don't control the door. I had no knowledge SIR PAUL was there. I just performed and left."
A rep for the Argyle has now revealed that McCartney mistook Tyga's party for the Republic Records bash hosted by Mark Ronson elsewhere and left once he realised the mistake. The British singer and his entourage of friends are believed to have gotten into Ronson's party successfully.
CSI: Cyber actor and rapper Bow Wow had attended Tyga's party and was surprised to hear that an artist as iconic as McCartney was not allowed in. Speaking to TMZ outside the venue, the rapper said: "Wait. The Paul McCartney came to Argyle... and they wouldn't let him in? You've got to be lying." Bow Wow's friend suggested that perhaps it was because McCartney is older and not part of the "new generation".
Watch Tyga discuss the Paul McCartney incident on Jimmy Kimmel Live: