Osborne: 'Andy Coulson hire nothing to do with NI links'
BSkyB bid was 'politically inconvenient' for Tories
Chancellor follows Gordon Brown as big-hitters at Leveson
Brown claims Sun story on son's cystic fibrosis from NHS leak
Also rejects Murdoch claim Brown said he "declares war" on media baron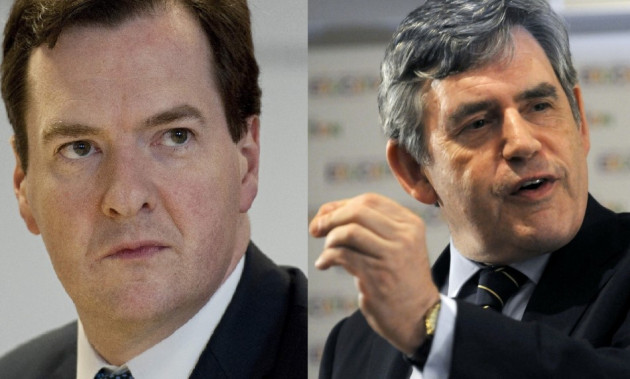 16:11 Osborne's evidence concludes.
16:10 Regulation must be "relevant to an internet age".
"I have a ten-year-old and an eight-year-old child and I doubt they will ever pick up a newspaper," Osborne said.
15:57 Press Complaints Commission needs a complete overhaul and victims of poor treatment by press need sufficient redress, said Osborne.
This should be the focus for Leveson's recommendations, rather than issues like conflation of comment and fact, said Osborne, else you may end up press censorship territory.
15:52 Coulson remains a personal friend of Osborne though "I unfortunately haven't been able to speak to him for a year," the chancellor said.
15:46 Osborne asked Brooks about her opinion of Coulson in a telephone call, though did not ask for more details over his resignation from News of the World after the phone hacking scandal first emerged in 2006.
Osborne thought from Coulson's reassurances, as well as others from News International that it was only "one rogue reporter", and the Press Complaint's Commission's comments that phone hacking was not widespread, that there was no more to the scandal than Mulcaire and Goodman.
15:39 "I thought he had a particular talent and ability that I had detected in him," Osborne said.
Had broader experience than just a political editor as he edited a national, very successful tabloid.
15:35 Decision to employ Coulson nothing to do with links to News International, Rebekah Brooks, and the Murdochs, insists Osborne.
Also claims Coulson had no complaints made against him about his work as comms chief.
15:32 Jay asks Osborne about the decision to employ Andy Coulson as communications chief for Number 10, which was pushed for by the chancellor.
"He had the been the editor of a national newspaper, so had had an enormous amount of professional experience," said Osborne
Would be able to handle hour-by-hour problems, as well as develop effective media strategy.
Also thought he held Conservative views.
15:14 "On the day I remember the pressure was enormous to do something about the political problem that had been unleashed on the government," Osborne said when asked why the decision to put Hunt in control was taken so quickly.
15:13 Hunt's previous statements of support for the bid presented a problem, which was checked by legal teams, said Osborne, but they did not anticipate any problems with his appointment and none were revealed.
Osborne replied to a text Hunt had sent about the Cable row with "I hope you like the solution".
Jay asks what was meant by this, Osborne said he thought Hunt would like taking on additional responsibilities.
15:05 After Cable was exposed by undercover journalists for the Telegraph as saying he had "declared war" on Rupert Murdoch over the BSkyB bid decision, which he has responsibility for as business secretary, he was forced to resign under accusations of bias.
Osborne claims that in a meeting between himself, David Cameron, and the prime minister's PPS Jeremy Heywood, he had said that Cable should not resign.
He claims Heywood came up with the idea of transferring the quasi-judicial decision to the department for culture, media and sport.
Jeremy Hunt, the culture secretary, was subsequently given the responsibility.
14:57 One of Osborne's special advisers, Rupert Harrison, had no substansive discussions with representatives of News International, including Fred Michel, and would dismiss requests for information etc because it wasn't their role.
One time Harrison said in a text to Michel that he would speak to Osborne once the chancellor returned from a trip to China, nothing was acted on. Osborne insisted Harrison was using diplomatic skills, rather than making any promise to help or assist the BSkyB bid.
Harrison never asked any improper questions of Osborne, nor liaised with the business department, relating to the bid and behave "at all times properly", Osborne said.
14:53 There were no discussions between Osborne and Hunt over the BSkyB, or Vince Cable, business secretary, who held the decision of the bid before he was stripped of it.
Said he was not aware of Hunt's or Cameron's views on the bid.
"I assumed, speaking about Mr Cameron, that like me he thought the whole thing was a political inconvenience to us," Osborne said.
14:52 "Since I thought there was nothing I could do with it, I just thought let the process run," Osborne said.
14:49 Jay suggests it is rather unusual for someone so political to have a "lack of interest" in such a political hot potato and when such strong opinions surround it on either side.
14:47 BSkyB bid was always raised as "a topic of conversation at drinks parties". Would always say he didn't know much about it as it was in his control.
Jay asks if Osborne had an opinion on the doomed bid.
Osborne said he regarded it as a "political inconvenience" and something that should go through the proper process.
"My own personal view was that this was all politically inconvenient for us."
14:43 The only time Osborne said he has come across Fred Michel, head of public affairs for News International, was at a Christmas party.
Michel was liaising with Jeremy Hunt's special adviser, Adam Smith, who resigned after the communication between the two was revealed. Smith had been giving privileged information and suggestions of support for the bid, despite the culture secretary's quasi-judicial decision on whether to approve the bid.
14:42 At another dinner at the end of 2010, in New York and with the Murdochs, Osborne said the BSkyB bid by News Corporation did not come up, and he remembers remarking to his wife that he was surprised he had not been asked about it.
14:39 No conversations between Murdoch and Osbrone before or after his McTaggert lecture which attacked the BBC and said it should be scaled back, to allow increasing competitiveness from private broadcasters.
14:38 Back to discussions with James Murdoch now. Osborne said Murdoch would always offer his views on the licence fee.
When the government froze the licence fee, Murdoch was annoyed and angry that they hadn't dismantled it, Osborne said.
14:35 "I think people understand that politicians hang out with journalsts," said Osborne, and has welcomed increasing transparency in meetings between the two.
"In the end the public are going to make a judgment of politicians and in the end the public are going to make a judgment of newspapers by buying them."
14:28 "In all these encounters with proprietors and editors we were trying to set out our stall on why we needed a change of government," said Osborne.
14:24 A meeting at Rebekah Brooks's home with Osborne and the Murdochs in 2009, ahead of Christmas, prompts Jay to ask if political matters arose.
Osborne says this is likely, but just general discussions about the world economy and the domestic situation, as the country approached an election year.
14:22 Jay asks Osborne about what was discussed with James Murdoch, who was chairman of BSkyB at the time, at dinners and meetings.
Osborne said that to his knowledge, OfCom was not discussed. Murdoch wanted easing of the broadcasting regulations.
They did discuss the licence fee, however.
14:19 News International count for about a third of all Osborne's meetings with newspaper executives from when he was shadow chancellor. Osborne claims this is roughly in line with what their market share of the national newspaper market at the time.
14:13 Jay asks what Osborne thinks about the "fusion of comment and fact" as highlighted by other Leveson participants.
Osborne replies that he thinks it is a "blind alley".
"One person's fact is another person's leading comment or opinion," he said.
"It is just a part of our written press."
14:11 Readers weren't very concerned about intrusion of privacy of politicians and celebrities, argues Osborne, but have since become concerned about journalists and how far they intrude since ordinary families were outed as victims, such as the Dowlers.
14:09 When meeting with editors or proprietors, Osborne says sometimes they speak on behalf of their readers - and he will make a judgment on how credible that claim is - and other times they speak as individuals.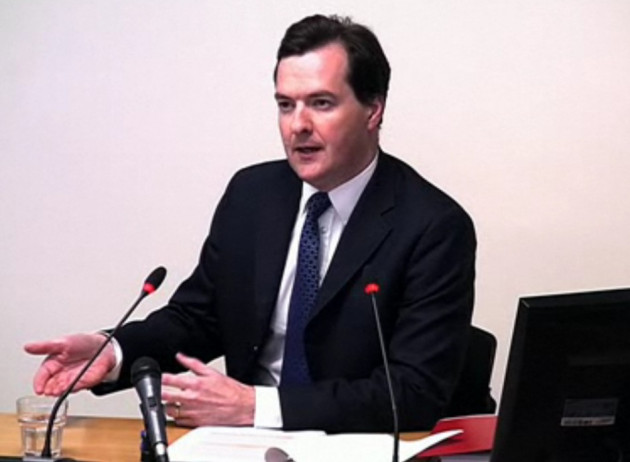 14:07 Osborne has taken his seat.
13:12 Leveson has broken for lunch. George Osborne is up next.
13:04 Counsel for News International stands up and cites Lord Mandelson's evidence, mentioning the alleged phonecall from Brown to Murdoch where he is claimed to have said he had no choice but to "declare war" on the company because it had switched support to the Conservatives.
Again, Brown denies such a conversation took place and said what Mandelson may be referring to is a different phonecall relating to Afghanistan, despite the evidence from the Labour peer saying otherwise.
13:01 Says that despite his experiences with the press he has never favoured strict regulation, though also thinks there may need to be a "statutory underpinning" to any system of regulation.
12:53 Leveson asks Brown how it can be incentivised.
Brown cites creation of licence fee and says there was a "market failure" regarding quality journalism, because sufficient demand was not there.
Argues that there is a similar situation now when it comes to the internet and journalism.
"Is the BBC model of any use to us? I think we need to look at that," he said.
12:52 Brown now being asked about recommendations for future regulation of the press. Says good journalism must be incentivised.
12:50 That NHS Fife statement in full:
John Wilson, Chief Executive of NHS Fife, said: "Any breach of confidentiality in the NHS is unacceptable. We now accept that it is highly likely that, sometime in 2006, a member of staff in NHS Fife spoke, without authorisation, about the medical condition of Mr Brown's son, Fraser.
"With the passage of time it has not been possible to identify all the circumstances.
"We believe, however, that there was no inappropriate access to the child's medical records. We are quite clear that conversations about patients are just as much a breach of confidentiality as looking into their medical records.
"In the six years which have passed, NHS Fife has tightened up its procedures on patient confidentiality, and staff have had appropriate training.
"I have apologised to Mr and Mrs Brown and we have taken steps to ensure that what happened to Mr and Mrs Brown and their family should not happen again."
12:47 "We did not know the extent of the phone hacking," Brown said thinking back to his time in government.
Said thought about public inquiry, but the head of the civil service, Sir Gus O'Donnell, only looked at some of the evidence and said there was not enough evidence of it being widespread to warrant a full probe.
12:43 Brown now talking about that Tom Watson phone call.
"All I reported to him is that News International didn't like him," Brown said.
Claims New International had "taken the view that Tom Watson had to be held culpable" for the original phone hacking arrests and convictions in 2006, of private investigator Glenn Mulcaire and News of the World royal editor Clive Goodman, and wanted him gone as a minister.
12:39 Brown said he would prefer an open system for lobby journalists and briefings, as well as press officers and SpAds beign under the direction of civil servants rather than political appointees.
12:32 Insists that he had strict rules for political advisors, which were "toughened up" when McBride left.
"My solution is you have to have tough rules that people have to follow, and if they don't obey the rules then they must go," Brown said.
12:21 "The one thing I insisted upon ... is our political advisors worked through the communcations head, who was a civil servant," said Brown on the subject of special advisors.
Charlie Whelan and Damian McBride, two of Brown's former Treasury SpAds who indulged in anonymous, off-the-record briefings against Tony Blair in order to unseat him as prime minister and get Brown in the seat, according to Blair's former spin doctor, Alastair Campbell, who gave evidence to Leveson.
Jay asks Brown if his staff were using these political dark arts to get rid of Blair.
"I would hope not," replied Brown.
Jay presses again on if they were or weren't.
"I would hope not," repeats Brown, adding that if it was done then it was without his knowledge or approval.
McBride resigned from his work in government communications after it emerged he was planning falsified sexual and personal smears against Conservatives.
12:17 From the Guardian's media editor, Dan Sabbagh, the dates of Brown's meetings with Murdoch while he was prime minister:
2007
05/10 - Meeting 13:05-13:10
29/10 - Lunch 13:30-15:00
2008
22/01 - 12:35-14:00 Lunch
06/06 - 19:10 Dinner with Mrs Murdoch
16/06 - 21:50 Dinner
2009
13/01 - 07:00-08:30 Breakfast
26/06 - 19:00-21:30 Dinner
14/12 - 08:30-10:00 Breakfast
12:14 "Refreshing lack of 'I can't recall' and 'not to my recollection' in Brown's testimony," tweeted former Times editor and BBC broadcaster Andrew Neil.
12:11 "I know it is uncomfortable, because you are balancing off two freedoms," said Brown. Right to privacy, plus freedom of press to investigate things that are wrong.
12:08 Dacre was opposed to elements of Data Protection Act (Daily Mail is one of the worst offenders when it comes to using private investigators to get information, according to a 2006 report by the information commissioner), said Brown.
Brown says his own instinct is that there should be a public interest defence in the Act, of which there currently is not.
12:05 Brown says he met very little with Paul Dacre, the editor of the Daily Mail.
11:58 Brown said Murdoch told him he would be getting an apology for the story over a letter he had written to a mourning mother of a soldier who had died in Afghanistan. The Sun accused him of insensitivity because the letter was handwritten, what was considered scruffily, and gave the perception that Brown did not care about dead soldiers and their families in a very personal attack.
After a furore, Murdoch called Brown and hinted that he would be getting an apology from Brooks if he called her, though he did and no apology came, claims Brown.
However Murdoch offered assurances that there would no longer be a personal element against Brown to the paper's coverage of the Afghanistan war.
11:56 From Sky News on Twitter:
NHS Fife: Highly likely that in 2006 a member of staff spoke, without authorisation, about medical condition of Gordon Brown's son, Fraser.
11:54 "This call did not happen. This threat was not made. I could not be unbalanced on a phonecall I never made."
Reiterates that there is no evidence other than Murdoch's testimony.
11:48 Jay asks Brown if he is sure that he had no conversation where, after the Sun withdrew support for Labour, he called Rupert Murdoch and "declared war" on him.
Brown denies such a conversation ever took place. Murdoch had recalled this conversation in his evidence to Leveson and said Brown had come across as "unbalanced".
Brown said there is no evidence that the call took place and is "surprised" that Murdoch made the accusation.
"This conversation never took place," said Brown.
"I'm surprised that first of all there's a story that I slammed the phone down, and a second story from Mr Murdoch himself that I threatened him. That did not happen."
11:45 Brown is asked by Jay if he had Murdoch's mobile number.
Brown said no, and didn't have his email either. Says he doesn't have the mobile numbers of any newspaper proprietors.
Also says he would have someone else on the line his end if he ever spoke to Murdoch so they could take note.
11:43 Back again. In the break the BBC political correspondent Ross Hawkins has reported that NHS Fife confirm Brown's account that they apologised to him over the story of his son's cystic fibrosis because they believe it to be a leak from an NHS source within their jursidiction.
11:30 Short break now.
11:28 "I never complained to the Sun about losing their support ... I have never asked a newspaper for its support," Brown said.
Disagreed with Peter Mandelson's statement that Brown was "stung" by it.
Said he saw the Sun's withdrawal of support coming for a long time and it was not a surprise.
On accusation that he was focused on how he came across in the press: "I'm so obsessed by the newspapers that I barely read them," he jokes sarcastically.
11:22 "I don't think that I was involved in any way that I would feel uncomfortable with now with any media company," said Brown.
11:17 Similar Presbytarian religious and Scottish background to Rupert Murdoch "made [relationship] interesting". Murdoch described it as "warm". Jay asks if Brown agrees.
"Yeah," he said.
11:14 Asked about meetings with media and press representatives.
"I tried my best to meet everyone," said Brown, saying that he wanted to meet a broad spectrum of media people.
11:11 Said he has been the subject of blagging and attempts to access his personal and private information, such as bank details, lawyers notes, accountants files.
"I have been the first to say that there is a public interest defence" for seeking private information or invaded privacy in certain, select circumstances.
"I accept a huge amount has got to be tolerated for a politics that is free of corruption" but a line must be drawn.
"It is about freedom being exercised with responsibility."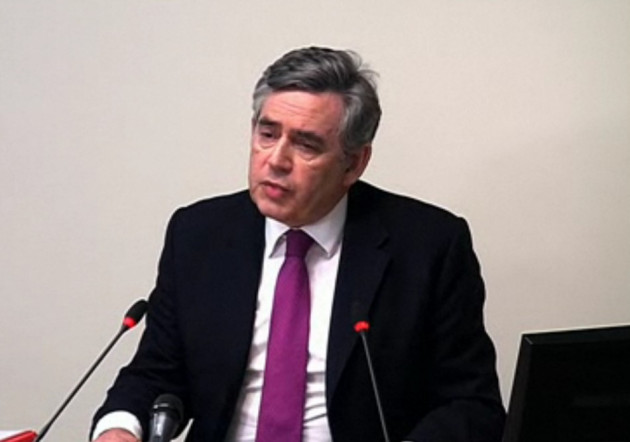 11:05 Brown now talking about the BSkyB bid from News Corporation. Said he would "never allow" the public interest to be overtaken by private interests.
Says it was pursued more by James than Rupert Murdoch.
"The wanted to change the whole nature of BBC, they wanted to change OfCom," Brown said. Also sporting events, advertising rights, and so on.
Their agenda was "public" and they are "entitled to their view" but it is the role of political power to act in the public interest.
Says his government's hostility towards News Corp's commercial agenda caused them to suffer for it, hinting at political support switch of Sun and negative press coverage.
11:03 Jay presses Brown on his wife Sarah's friendship with Rebekah Brooks, who was editor of the Sun when the stories about his children were published.
Says his wife is "one of the most forgiving people I know" and worked closely with Brooks through charities, which is very separate from his political role.
10:56 When Browns had story put to them by the Sun, were not happy, but decided to "limit the damage".
If the story were to be published, they wanted to release just one statement to all media outlets "to avoid days and days of endless talk" about his son's condition.
The Sun rejected this and said that if they went ahead with a universal statement that in future the Sun would not come to the Brown family for a comment if they were to do any more stories.
Said he was presented with a "fait accompli" and the story would be published with or without permission from him or his wife.
"I don't think there's any parent in the land who would have given explicit permission for this story."
10:53 Now being asked by counsel Robert Jay about the story in the Sun about Brown's child having cystic fibrosis.
Brown said that only a few doctors and his wife, Sarah Brown, knew about the condition. Brown says this topic is difficult for him as it is private and he doesn't like discussing his children publicly.
The Sun maintains that someone in the same hospital as Brown's son, who also had a child suffering from CF, gave them the story because they wanted to raise the profile of the illness.
Brown claims that Fife health board think it came from an internal NHS leak and have apologised to him for this.
10:50 Brown rejects notion that his relationship with Rupert Murdoch and his media empire broke down when he became prime minister as the News International paper the Sun switched support from Labour to the Tories.
"I would suggest to you that the commercial interests of News International were very clear long before that, and they had the support of the Conservative Party in that," he said.
10:48 Accuses James Murdoch, Rupert's son and former BSkyB chairman, of "breathtaking arrogance" in his 2009 speech where he said that the BBC should be scaled back to allow its market competitors a better chance.
10:44 Gordon Brown claims that he tried to move away from spin when he took control as prime minister.
10:42 Claims that this conflation leads to "trivialisation, sensonalisation, and demonisation" of people and issues in press.
10:37 Illustrates "conflation of opinion and fact" issue by saying that in press coverage of his handling of Afghanistan war, journalists would reduce criticism of his strategy to "he doesn't care about our troops in Afghanistan".
10:34 Blames internet, in part, for a decline in standards of media.
"We are now in an internet age. There is a massive flow of information available to everyone."
Says business model of advertising imploding and therefore damaging quality journalism.
"You cannot ignore the fact that the whole of the coverage of news now is intimately tied to the development of the internet" and says that the standards that supposedly once existed in old-style press are thus declining.
Suggests that the license fee could extend to online news organisations in order to help fund better journalism.
10:32 Freedom press has "must be exercised with responsibility".
Highlights two problems with press, as Brown sees it:
Conflation of facts and opinion one problem - "tendency to editorialise outside their editorial content".
Other invasion of privacy. Cites Milly Dowler family and the various invasions of privacy they experienced after the murder of their loved one.
10:28 Brown says the media have "not just a right, but a duty to speak truth to power."
"I would defend the right of the media to exercise that freedom even when there is a political bias," he said.
10:26 Gordon Brown takes the stand and swears in.
10:20 Lord Justice Leveson making a statement re-asserting his committment to being non-political in his inquiry.
Leveson sounding decidedly irked by by way his inquiry has been reported.."I will be paying attention to wht is reported" #leveson

— norman smith (@BBCNormanS) June 11, 2012
10:00 Welcome to the International Business Times UK's rolling coverage as the Leveson Inquiry hears from two significant figures British politics.
George Osborne, the chancellor, and Gordon Brown, the former prime minister and chancellor under Labour, will both give evidence on their experiences with the press to Leveson, which is scrutinising press standards and ethics in the UK following the phone hacking scandal.
Once the inquiry concludes, Lord Justice Brian Leveson, who is leading the proceedings, will make a series of recommendations on press regulation.
From Osborne we should expect to hear about his meetings with newspaper executives during his time as shadow chancellor and chancellor, as well as embarassing stories that have appeared in the press, such as an old photo that surfaced showing him sitting at a table with a prostitute and what was allegedly a line of cocaine.
It is widely known that Osborne, who has played a leading role in behind-the-scenes strategy for the Tory party, approached Andy Coulson, the former editor of the disgraced News of the World which closed because of its involvement in phone hacking, to take the top communications role at 10 Downing Street.
Coulson resigned his Conservative party role in 2011 amid revelations over the alleged illegal conduct of some journalists under his editorship. He has since been arrested by police investigating phone hacking, and faces separate perjury charges in Scotland.
Osborne also faced criticism in the press for meetings before he took office in 2008 with Russian oligarch Oleg Deripaska where he was accused of trying to solicit a large donation to the Tory party.
Electoral rules ban any non-UK residents from making donations to British political parties. Osborne admitted discussing a donation, but denied soliciting or accepting one.
Brown had a rocky relationship with the press during his premiership, which last from 2008 to 2010 after Tony Blair resigned, and fell out with Rupert Murdoch, who owns News International.
He faced questions over the state of his mental health after it was alleged he was taking prescription medication for depression, and had details of his son's medical condition, cystic fibrosis, revealed in the press.
There was also an embarrassing moment in the 2010 election campaign when he forgot to take of a television news microphone after getting in a car. Brown had just been confronted on the street by Gillian Duffy, a pensioner from Rochdale, over immigration.
Brown was overheard saying the incident was a "disaster" and that Duf