Britons Could Get Free RBS Shares Worth £400 Under George Osborne's Pre-Election Scheme
George Osborne proposes to give away government stake in RBS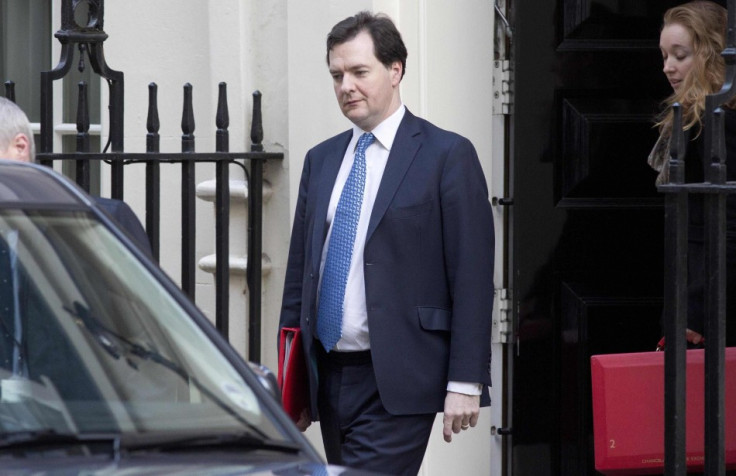 The government is planning to offload its stake in crisis-hit Royal Bank of Scotland to citizens before the next general election, suggests media reports.
The Chancellor George Osborne has ordered Treasury officials to make plans to "give away" its 81 percent stake in the bank to voters by 2015, according to a report in The Independent.
In 2008, the government pumped in £45bn ($70bn, €52bn) of capital to rescue the debt-ridden bank, a move that made the state majority owner in RBS. The government's holdings in RBS are worth just £31bn at current market value.
The giving away of shares which are currently worth between £300 and £400 is expected to boost the cash-strapped economy by providing about £30bn of liquid assets as well as to lift the prospects of the coalition in the next general election.
Osborne's decision to offload the shares comes at a time when the RBS was ordered to pay a record £390m to settle charges related to the manipulation of the benchmark lending rate known as Libor. The chancellor is said to be frustrated as the government is being dragged into the scandals involving RBS such as Libor rigging and bankers' bonuses.
Under the plan which is being explored by Sajid Javid, the Economic Secretary to the Treasury, a share voucher could be sent to everyone with a National Insurance number or possibly even everyone over the age of 18, according to a report in the Daily Mail. Alternatively, the government may sell the shares to taxpayers at a discount.
"There is a realisation that there is no prospect of RBS's share price rising to the level at which we bailed the bank out, and it's not good for the bank or the Government to hold on to our stake indefinitely," the Daily Mail reported quoting a "senior Treasury figure".
RBS shares closed at 344 pence in the previous trading session.
© Copyright IBTimes 2023. All rights reserved.