Chancellor George Osborne is set to warn Britons that they must not lose their nerve over further spending cuts as he sets the ground to do battle with Work and Pensions Secretary Iain Duncan-Smith over the universal credit payments. Osborne is believed to already have the Departments for Transport, Environment, Food and Rural Affairs, Communities and Local Government and the Treasury on board over his proposed cuts.
The four government departments have already agreed to cuts of 8% every year for the next four years, Osborne will announce today. The four departments are expected to find savings by scrapping "low value programmes" and back office cuts. This would effectively amount to a cumulative cut of about 30% over the current parliament.
Duncan Smith however is believed to be gearing for a showdown with Osborne over the cuts. Newspaper reports say that he has clashed with the Chancellor over plans to take £2bn from the welfare budget to help the Chancellor ease his proposed tax credits cuts that were thrown out of the House of Lords pending a review.
There are concerns that Osborne's cuts will have devastating effects on social care services for the elderly while the cuts to the police force will see the end of neighbourhood policing. The Independent says sources close to Duncan Smith have already briefed newspapers that he is ready to walk if he is forced to compromise on universal credit reforms.
Osborne has brought in Patrick McLoughlin, the Transport Secretary, Elizabeth Truss, the Environment, Food and Rural Affairs secretary, and Greg Clark, the Communities and Local Government secretary to sit on a key committee that decides on the fate of ministers who are intent on holding out against Treasury demands for budget cuts.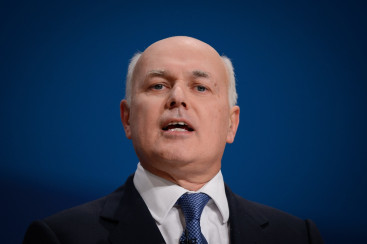 In a speech he is set to make on Monday (9 November) at the Imperial College in London, Osborne will be taking a strong stance backing his spending cuts which has come under heavy criticism not only from the public but also his own backbenchers and the Upper House. The spending cuts are expected to be confirmed in a 25 November spending review which will set out a total of £20bn in cuts by various government departments by 2020.
"If our country doesn't bring the deficit down, the deficit could bring our country down. That's why, for the economic security of every family in Britain, the worst thing we could do now as a country is lose our nerve," he will say.
Osborne is seeking a £10bn surplus by 2020 and to achieve this, he will have to save £12bn on welfare spend and recoup £5bn by reducing tax avoidance. He will go on to say: "No one knows what the next economic crisis to hit our world will be or when it will come. But we know we haven't abolished boom and bust."
The Chancellor, in a move to convince Britons the need for further austerity will warn that the UK will need to "have the money to help us through the tough times when the storm comes." However on Sunday (8 November), Foreign Secretary Philip Hammond told the BBC's Andrew Marr show that he did not think Duncan Smith will resign.
"I don't think so. We all have robust discussions with the Chancellor. That's the nature of the way government works," he said the programme.