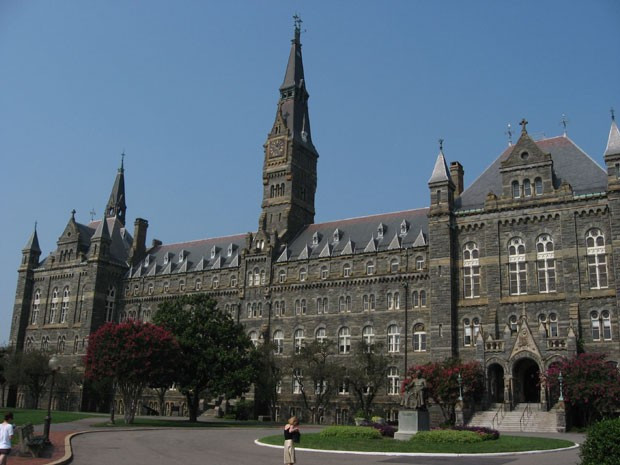 In an unprecedented form of atonement, Georgetown University will give admissions preference to descendants of slaves who were once owned by the university and its Jesuit community in Maryland.
Georgetown will attempt to identify and reach out to descendants of the slaves and recruit them, said officials.
A university report recommending the policy also calls on Georgetown officials to issue a formal apology for the school's participation in the slave trade.
In 1838, two Jesuit priests who each served as president of the university arranged the sale of 272 slaves to pay off debts at the school.
The slaves were sent from Maryland to plantations in Louisiana, where they "laboured under dreadful conditions on cotton and sugar plantations," according to the Georgetown report, entitled Slavery, Memory and Reconciliation.
"Slavery — slave labour and the slave trade — is part of our history," the report concludes. "As a university community we need to know, to acknowledge and to absorb that history that makes Georgetown what it is. We are, after all, slavery's beneficiaries still today. There can be neither justice nor reconciliation until we grasp that truth."
As part of the initiatives, the administration of Georgetown University President John DeGioia also plans to launch a slavery studies institute, rename two buildings after an African-American slave and an African-American educator, and erect a memorial on the Washington DC campus for slaves who worked for the university, including those sold in 1838.
More than a dozen universities in the US — including Brown, Harvard and the University of Virginia — have publicly recognized their ties to slavery and the slave trade. But historians who have studied the link between universities and slavery told the New York Times said they knew of none that had offered preferential status in admissions to the descendants of slaves.
Georgetown, which was founded and run by Jesuit priests in 1789, relied on the Jesuit plantations in Maryland — and the sale of produce and slaves — to finance its operations.
DeGioia said he planned to apologize for the wrongs of the past "within the framework of the Catholic tradition" with a Mass of reconciliation in partnership with the Jesuit leadership in the US and the Archdiocese of Washington DC where the university is located.