Gerard Deulofeu: I Love Life at Everton - and Won't Join a Giant Like Liverpool or Arsenal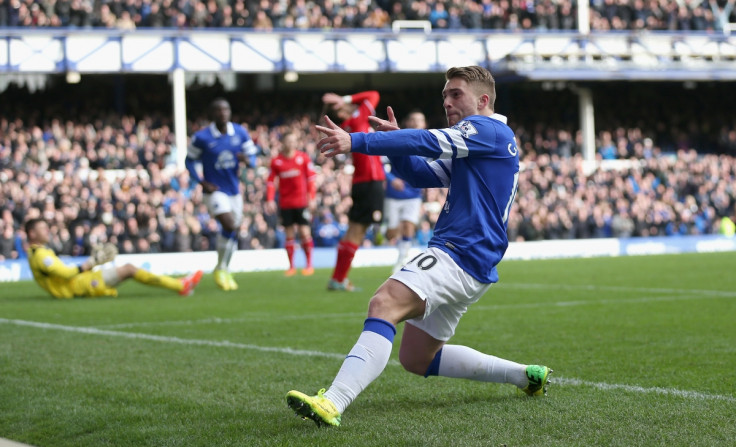 On-loan Everton starlet Gerard Deulofeu told IBTimes UK he is loving life on Merseyside, and wouldn't consider a move to one of the Premier League's giants.
However, the talented playmaker dealt a blow to Toffees fans by saying the only club he dreams of playing for long-term is Barcelona, where his skills were honed.
Deulofeu, who moved to Goodison Park on loan in July 2013, said he is enjoying the best moment of his career right now.
"I am in the top division, in the Premier League, one of the best leagues - if not the best - and I am really enjoying it.
"I have learnt so many things. Especially that I have lived [the English season] with great intensity, I have enjoyed it. But mostly, I think I have improved my physique. Before, my defence was questioned but I am improving it. I am very happy."
When asked whether he would move to one of the Premier League's biggest clubs, Deulofeu refused to even entertain the idea of playing for a team such as Liverpool, Arsenal or Manchester United.
Asked about in which one he would like to play in the future – apart of Everton, he flatly said: "I am happy at Everton but the only team I want to play for is Barcelona."
The jewel of Barcelona's La Masia Academy added: "I would really like to be at Barça because it is the best team in the world. I would like to be in the first team, but also I know it is very complicated as there are very good players. We have to wait."
Asked whether he will return to Catalonia this summer, Deulofeu said: "What is meant to be, will be. There is a month left and these things are Barcelona's decision. I am very happy at Everton and I do not know what is going to happen next season. But, I would love to be at Barça."
Predictably, the young attacking star believes his boyhood idols will win both La Liga and the Champions League, saying: "My favourite to win the both trophies are Barça, of course!
"They won El Clásico which was very important because if they did not win it, I think their chances would have finished. So they are doing well. Let's see what happens. There are three teams and seven games left, so they will have to gamble [in La Liga]."
Over the past five years, the Catalan giants have been embraced by the whole footballing universe as they achieved amazing results while playing a spectacular brand of football.
But the spiritual totem of that team will soon be part of the past as Carles Puyol has announced he will be leaving Barcelona at end of the season. Xavi Hernandez and Andres Iniesta are the leaders now, but they are also the wrong side of 30.
Asked whether he thinks the Catalan club need to rebuild with a young side, Deulofeu said: "There are not too many coaches who trust in young guys. Also they gamble a lot as there is a lot of pressure and is very complicated. Anyway, that also depends on the coach."
Despite his love of Barcelona, Deulofeu does not believe La Liga is inherently superior to the Premier League.
"This year [La Liga] is also very nice because there are three teams in the title race. But normally it is only Barcelona or Madrid fighting for it and, in previous years, Barcelona has almost always dominated. So I think the Premier is lived more, is more passionate."
The young promising star is committed to improving and becoming the best, just like La Masia's most famous product, Leo Messi.
Asked if he can imagine himself winning the Ballon d'Or someday, he said shyly: "Yes, of course! I do see myself able to do it. But it is very complicated and I have to work very hard every day."
© Copyright IBTimes 2023. All rights reserved.