The glitz and glamour of mainland Europe gave the British electorate a strong economic case to back the country's membership of the European Economic Community (EEC) in 1975, according to Gisela Stuart. But the German-born Labour MP warned it would be dangerous for the UK to remain inside the EU more than four decades later.
"When I moved here from Germany in 1974, a year after the UK joined the Common Market, membership seemed to make sense. The country was in the throes of the 'three-day week'. This country was a bit of a basket case," the Vote Leave chairwoman said.
"Mainland Europe was where the glitz was. Here, we had black-and-white televisions, gas fires which didn't work and showerheads with proper water pressure were undreamt of. Economics drove British interest in the EEC. That was as true for the government as it was true for the voters."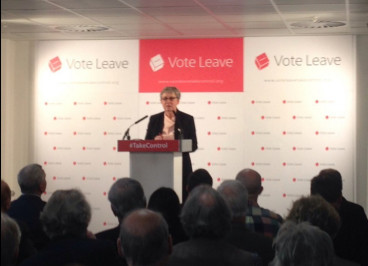 She added: "To those who say leaving is a leap in the dark I say it is jumping from darkness into light. The shape of the global economy and the way it works have changed profoundly since Britain joined the EU.
"As other economic powers have risen, so Europe's share of the world economy has sunk.
"And whether it is in cars, labour law, banking or food, many of the rules governing Europe's internal market are now agreed globally, with the EU acting as a costly middleman to pass them down."
Stuart, an MP for Birmingham Edgbaston since 1997, made the speech on the eve of Jeremy Corbyn's first major pro-EU speech of the referendum campaign. The Labour leader voted against EEC membership in 1975 and has made Eurosceptic soundings ever since.
But it is believed pressure from his shadow cabinet over the 23 June ballot turned the left-winger into a 'remain' campaigner. So far, former Home Secretary Alan Johnson has led Labour's pro-EU campaign, with US-based David Miliband intervening on the issue on 12 April.
"If you want to strengthen Putin, vote to leave. If you want to weaken the West, vote to leave. If you want to make it harder to deliver effective aid to the poor, or curb global emissions, or crack down on rogue actors, vote to leave," the former foreign secretary warned.
| | | | | | |
| --- | --- | --- | --- | --- | --- |
| Date | Pollster | Remain | Leave | Undecided | Method |
| 8-10 Apr | ICM | 42% | 45% | 12% | Online |
| 6-7 Apr | YouGov | 40% | 38% | 16% | Online |
| 29 Mar-4 Apr | YouGov | 39% | 38% | 18% | Online |
| 1 Apr–3 Apr | ICM | 44% | 43% | 13% | Online |
| 29 Mar–3 Apr | OBR | 51% | 44% | 5% | Telephone |
| 29 Mar - 1 Apr | Opinium | 39% | 42% | 18% | Online |
| 24-29 Mar | TNS | 35% | 35% | 30% | Online |
| 24-29 Mar | BMG Research | 41% | 45% | 14% | Online |