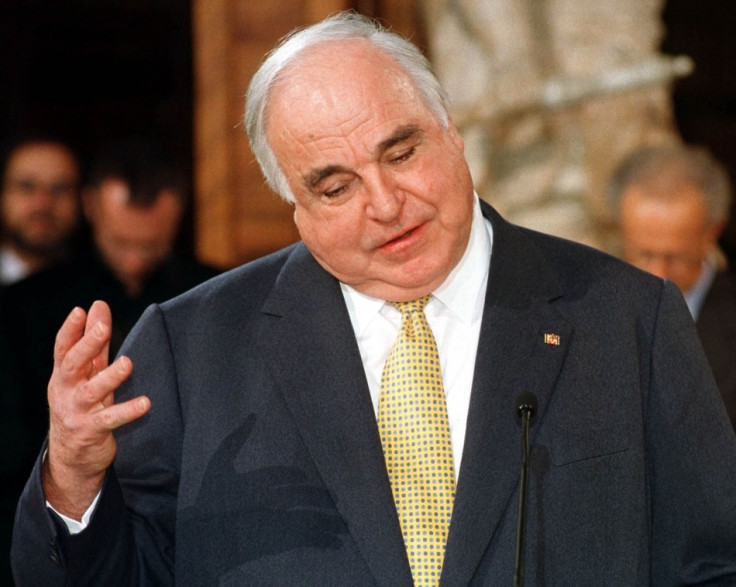 Helmut Kohl, the former German chancellor is in a "critical" condition after surgery on his intestine.
The 85-year-old is in a clinic in Heidelberg, according to Der Spiegel.
His office said he was "doing well under the circumstances". They also stated that he had a successful hip replacement in May, but needed a further operation, undergoing a bowel operation which put him in intensive care, according to the Mail Online.
Sources close to Kohl say he has been in intensitve care for the last three weeks, while Bunte magazine says the ex-chancellor was unconscious for a long time following the operation on his intestine.
In recent years, Kohl has rarely been seen in public, and has been confined to a wheelchair in recent years after suffering a stroke.
The politician is estranged from his two sons following the suicide of his wife in 2002. She was depressed after suffering from a long-term illness which made her allergic to light.
Germany's longest-serving postwar chancellor was also one of the authors of the European single currency, oversaw the reunification of East and West Germany in 1990, and served first as chancellor of the former West and then of a reunited country.
Kohl was forced to resign in 2000 as head of the CDU (the Christian Democratic Union) after it was revealed he had received cash payments from unknown donors.
A book of candid interviews with the former chancellor called Vermächtnis - die Kohl-Protokolle ("Legacy - the Kohl Transcripts"), revealed how he ridiculed current Chancellor Angela Merkel, the protégé he turned against following the expenses scandal that toppled him in 1999.
"Ms Merkel couldn't even hold her fork and knife properly," Kohl is quoted as saying. "She hung around at state dinners so that I had to repeatedly tell her to pull herself together."
Kohl was described as "the greatest European leader of the second half of the 20th century" by U.S. Presidents George H. W. Bush and Bill Clinton.