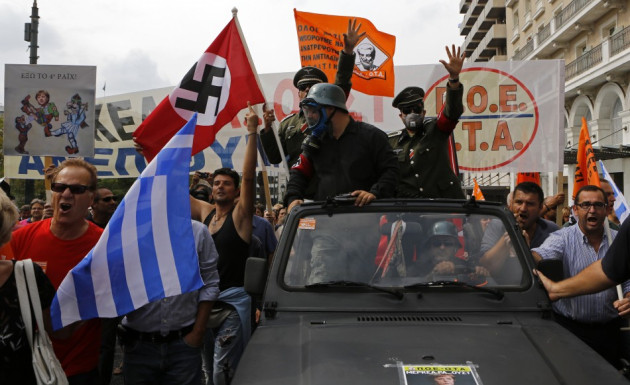 Germany owes Greece €162Bn (£138bn, $211bn) in unpaid reparations for the First and Second World Wars - a sum that could solve its immediate debt problems, according to a leaked 80-page report.
Greek researchers compiled the Aporito or secret document WHICH THEY delivered to officials in March. It was leaked by Greek newspaper To Vima under the headline "What Germany owes us".
The panel of experts concluded that Greece "never received any compensation, either for the loans it was forced to provide to Germany or for the damages it suffered during the war".
Based on 761 volumes of archival material and 190,000 pages of documents, the research did not offer detailed figure regarding the extent of reparation. But earlier calculations put the total owed by Germany at €108 billion for rebuilding of the country's shattered infrastructure and a further €54 billion derived from forced loans paid by Greece to Nazi Germany from 1942 to 1944.
Greek PM Antonis Samaras has held a special meeting with the foreign minister Dimitris Avramopopoulos to discuss the diplomatic consequences of the leaked file. The foreign ministry said the report would be sent to the State Legal Service "so that legal elaboration, assessment and setting out of the claims of the Greek State can be carried out and a relevant opinion submitted."
Greece was paid 115 million deutschmarks ($67 million) by West Germany to Greek victims of Nazi crimes in 1960 and victims of the forced labour camps were compensated individually. But Athens argues that another loan of 476 million reichsmarks that the Greek National Bank was forced to issue during the war has never been repaid.
The National Council in Greece has long called for war reparations from Germany with as much as €500 billion of refunds to cover stolen art work.
However, it is unlikely that the Greek government will pick up the issue with Berlin. A Greek government official told Der Spiegel magazine that this was "no time to pick a fight" with Germany.
Greece's total debt is estimated to top £200bn ($407bn, €327bn)