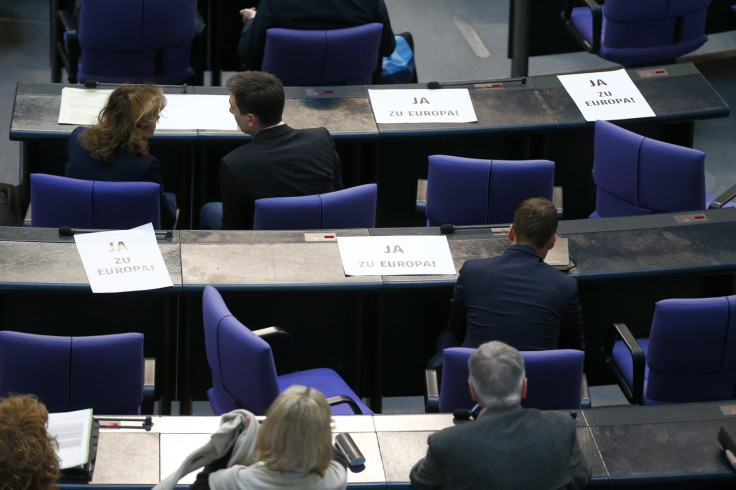 German MPs have approved the extension of Greece's bailout programme.
The Bundestag MPs voted overwhelmingly in favour of the four-month extension of the Greek bailout. Of 587 votes cast, 542 were yes, 32 against and 13 abstained.
Minutes before MPs casted their votes, a lively debate took place in the German Parliament.
German finance minister Wolfgang Schäuble called on the Bundestag to support Greece's four-month bailout extension, explaining that Greece is not getting more money today, 27 February, 2015.
"We're not talking about new billions for Greece, we're not talking about any changes to this programme - rather it's about providing or granting extra time to successfully end this programme," he told MPs.
He admitted it wasn't "an easy decision for any parliament member," adding "Greece has to do its bit. Solidarity has something to do with reliability".
Following his statement, Schäuble won the most applause when he insisted that Germany must do everything it can to hold Europe together.
Who voted yes
Other politicians from across the spectrum insisted that the problems predated Greece's first aid package, and that other eurozone bailouts had been successful.
Carsten Schneider, of the social-democrat SPD, said that wealthy Greeks must make a bigger contribution to its finances, and also acknowledged that Greece may need a third bailout.
The Green party's Anton Hofreiter called for more solidarity, stating: "This conflict is about the interests of a few super-rich people versus ordinary people in Greeks."
Gregor Gysi of left-leaning party Die Linke party said Greece's "kamikaze policy" of austerity must be changed. He asserted Syriza is the first government in Europe that has challenged neoliberal policies.
"With this kind of policy debts will never be repaid. There is no logic. We must help rebuild Greece, so it can repay its debts," he told Parliament.
Who voted against
Klaus-Peter Willsch, of the ruling conservative CDS/CSU group - Germany's two main Christian democratic conservative parties - said he was against extending the Greek bailout. He argued that Greece needs to crack on with reforms.
Noting the high rate of youth unemployment, he deplored that labour costs in the country are still twice as high as in Poland and Slovenia.
He ended his speech with a well-known German proverb (Lieber ein Ende mit Schrecken als ein Schrecken ohne Ende), which roughly translates as: "It's best to get unpleasant things over and done with."
Thorsten Frei, also of the CDU/CSU, then hit back at the previous speakers from his party.
He claimed the vote was not about approving a new bailout, but about seeing the existing Greek bailout through to its successful conclusion.