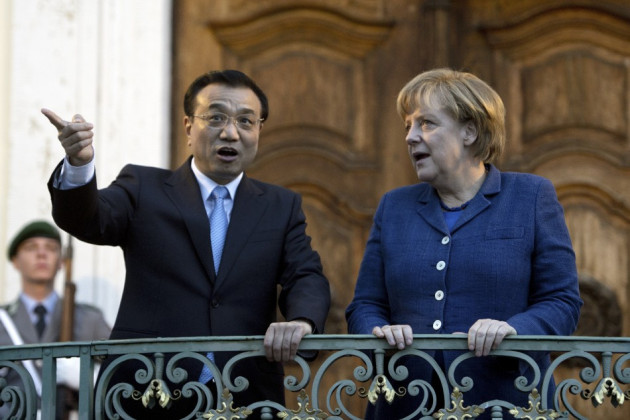 Germany does not want its relationship with China to turn frosty. Europe's largest economy needs a market for its technologically advanced goods and the world's second biggest economy is in a hurry to acquire the technical know-how to boost its own manufacturing capabilities.
China on 27 May said it would allow German business to invest in new sectors of its economy, and Beijing could sidestep the EU in its dealings with Berlin."If we both come together in an ideal and optimal way, a dream team will emerge," Chinese Premier Li Keqiang told German business representatives during a visit to Berlin.
Bilateral trade with Germany, at €150bn (£128bn / $193bn), accounts for a third of Beijing's overall trade with the 27-member EU bloc.
Li wants closer cooperation in manufacturing and mentioned education, healthcare and logistics as sectors for potential German investment. "China is willing to open up this space preferentially to Germany," said Li, who is an economist.
China's latest courtship with Germany comes against the backdrop of potential EU sanctions against Chinese solar panel-makers, whom the EU has accused of 'dumping' low-priced solar panels in Europe.
Germany and the UK are reportedly among 14 EU members opposing potential sanctions targeting Chinese solar panel imports, despite the fact that Chinese firms dominate the EU market for the product, with a market share in excess of 80%.
Chinese direct investment into Germany, at €1.2bn, is lower than German direct investment into China, worth around €35bn, Peter Loescher, the chief executive of Germany's diversified industrial group Siemens pointed out, explaining why German Chancellor Angela Merkel would do everything to ensure that things remained cordial between the two power houses.
Germany heads to the polls in September and Merkel will want to continue to keep German businesses happy as the Chinese market helped many of its companies survive the Eurozone debt crisis, after demand dropped in export markets closer to home.