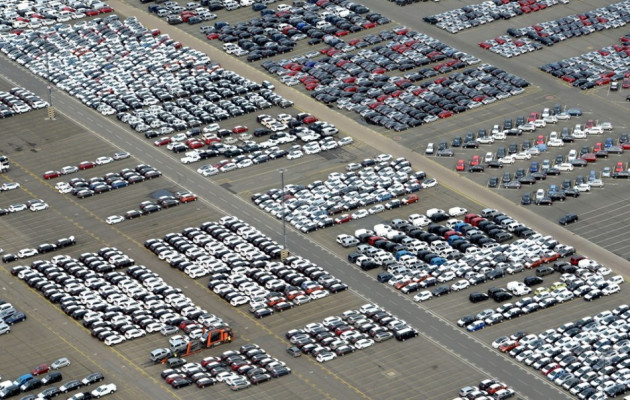 Germany's exports unexpectedly declined in July primarily due to lower orders from its fellow euro-area countries who are still suffering from the credit crisis.
After adjusting for working days and seasonal changes, July exports declined 1.1% from June when they rose 0.6%, according to Germany's Federal Statistics Office in Wiesbaden. Economists expected a 0.8% increase in exports for the month.
Meanwhile, imports rose 0.5% on month in July, compared to a 1% decline in June. Growth fell short of analysts' forecasts of 0.9%.
The foreign trade balance showed a surplus of €16.1bn ($21.1bn, £13.6bn) in July, down from a revised €17bn in June and €16.9bn in July 2012.
Export growth has been vital for the GDP of the largest economy in Europe, which recently came out of recession.
The weak export data comes after a 2.7% fall in factory orders in July from a month earlier, said the Economy Ministry.
Lower Exports to Eurozone
The eurozone is the biggest trading partner of Germany and the member countries buy almost a third of the country's exports. In July, German exports to the eurozone declined by 0.7% compared to the same month a year before.
Many countries in the single-currency area, who were hit by the sovereign debt crisis, are still struggling to recover amid high unemployment rates and low wage growth.
Exports to non-euro area countries in Europe rose 3.6%, while those to all other countries declined by 1%.
In contrast, imports from euro-area countries rose by 1.5% in July. Non-euro area imports declined by 1.7% and imports from all other countries rose by 1.6%.
Euro-Area Developments
Among other developments in the eurozone, France reported a trade deficit of €5.1bn in July, bigger than €4.5bn in June. Meanwhile, Italy's surplus from non-euro area trade increased to €2.8bn from €2.5bn.
The Greek economy contracted 3.8% on year in the second quarter, according to the latest official data. Portugal recorded a second-quarter GDP growth of 1.1% over the previous quarter.
In Spain, production at factories declined by 1.4% in July, the 23rd month of falling industrial production.
The euro area is widely expected to come out of its longest-ever recession in the ongoing fiscal year, amid positive data from the manufacturing and services sectors. The euro-area economy expanded 0.3% in the second quarter.
Meanwhile, the European Central Bank (ECB) on Thursday maintained its forecast for an economic contraction in 2013. The ECB expects the GDP to shrink by 0.4%, compared with its June outlook of 0.6%. For 2014, the central bank expects a growth in the range of 1% to 1.1%.
The ECB also kept its benchmark interest rate at a record low of 0.5%.