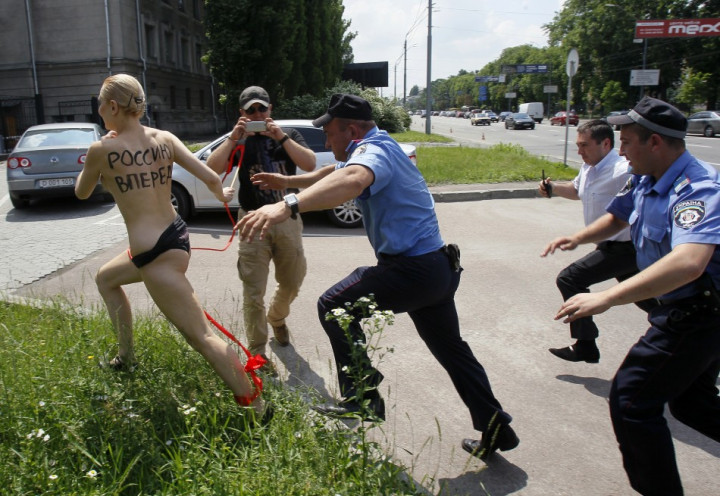 Topless Femen activists who were demanding German government action over the jailing of feminist campaigners in Tunisia have had their protest stopped by police.
Three campaigners were dragged away from outside the chancellery building in Berlin where they were demanding that Chancellor Angela Merkel intercede with the Tunisian government to demand the release of the women.
The women shouted "Merkel free Femen" ahead of the chancellor's meeting with Tunisian premiere Ali Larayedh.
The chancellor told reporters that she had talked about the jailed activists with Larayedh and that she had "made clear the hope for a fair and reasonable handling of the situation".
Larayedh said the incident "must not be blown out of proportion". He said the rights of the three Femen members were being protected.
Three women, two French and one German, were charged over a topless protest outside the Palace of Justice in Tunis. They were demanding the release of campaigner Amina Tyler, who was arrested and charged with being in possession of pepper spray.
Tyler, 19, appeared before a judge in Kairouan who will decide whether to charge her also with public indecency and desecrating a cemetery.
Femen members have staged a number of protests across Europe to support her cause as part of a "topless jihad" day.
In another development, a Femen member was detained outside the Russian embassy in Kiev for staging a topless anti-Putin demonstration. Putin has just announced his separation from his wife, Lyudmila.