Two commuter trains collided head-on near the remote Bavarian town of Bad Aibling, around 35 miles south west of Munich, causing numerous carriages to derail. The cause is still unclear and police have said that investigations are being made.
The collision happened at 6:48am local time (5:28am GMT), with at least 10 confirmed fatalities and 150 more injured, some severely, with these figures expected to rise. Many passengers were trapped inside the carriages and had to be cut out of the wreckage and transported across a river to receive medical care, police said. Hundreds of emergency personnel from Germany and neighbouring Austria were on the scene looking through the wreckage and aiding the evacuation of the injured.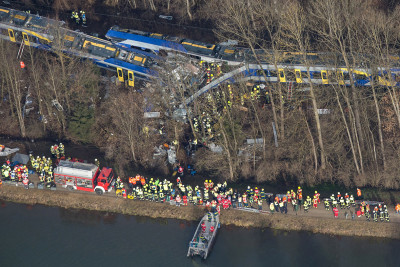 The trains' operator, Meridian, is part of French passenger-transport firm Transdev, which is jointly owned by state-owned bank CDC and water and waste firm Veolia. The rail line is commonly used by commuters heading to work in Munich, the DPA news agency reported.
Speaking from the crash scene, federal transport minister Alexander Dobrindt expressed his deep sorrow for the incident and said that his thoughts were with the family members of the dead and the injured, stating: "We need to find out know what happened, if the cause of the crash was based on the technology or human failure."