Speaking to an angry crowd at a protest rally on the Falls Road this afternoon, the deputy First Minister of Northern Ireland has once again strongly condemned the arrest of Sinn Fein President and Teachta Dála for Louth Gerry Adams on suspicion of involvement in the murder of Jean McConville.
McConville was abducted from her West Belfast home and murdered in 1972 having been wrongly suspected of being an informer or "tout". Her children, who witnessed their mother being dragged away, were told she had abandoned them and were only told the location of her body over 30 years later.
McGuinness, who admits to being a former IRA commander but who has played an essential role in the peace protest, says a small element within the Police Service for Northern Ireland (PSNI) appear to have 'destructive political agenda'. When asked if Sinn Fein might withdraw support from the police if Adams was charged over Mrs McConville's murder he replied: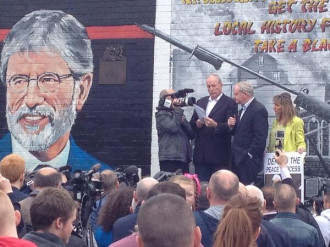 "We're not taking any decision at this time about anything. We have always been very cool, calm and collected about how we deal with difficult situations... but I think if such a scenario does develop we will sit down and we will reflect on what will be an even more serious situation than the one that we face today."
Sinn Fein President Gerry Adams, now the elected representative for County Louth in the Republic of Ireland and the former MP for West Belfast, has always denied being a member of the IRA. He was allegedly linked with the crime in testimony given to the Boston College Project by at least one former IRA member on the understanding this testimony wouldn't be released until after their death.
However the PSNI went to the US Supreme Court where they won a legal action and were handed a transcript of the tapes, which also included an interview with Ivor Bell, now 77. He was recently charged on suspicion of being involved in McConville's murder.
Sinn Fein believes the timing of Adams's arrest is political, with the European elections just weeks away. Some Republicans have also suggested double standards are in play, citing the case of the 1971 Ballymurphy Massacre, where 11 civilians – including a mother and a Catholic priest - were killed by British paras on a west Belfast housing estate. Last week Secretary of State Theresa Villiers said there would be no judicial enquiry into those killings, saying it would not be in the "public interest."