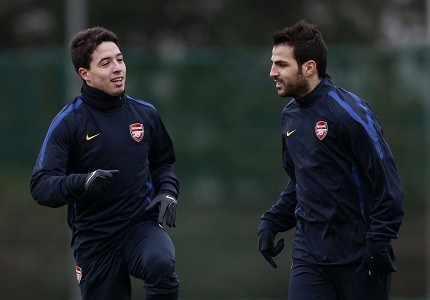 Arsenal is set to make their first real moves in this summer's transfer window according to the newspapers this morning. Arsenal is set to complete a £12m move for Ivory Coast striker Gervinho after the forward revealed he is ready to quit France for the Premier League. Lille president Michel Seydoux said: "I have spoken with Gervinho and he wants to play for Arsenal next season.
"This is clear but now we must get an agreement between the two clubs.
"We have maintained contact but still the Londoners have not presented us with a formal offer.
"Negotiations are on-going but Gervinho has demanded a solution to the situation soon."
Arsenal could land the 24 year old in the next few days as Lille is looking to raise money for their own moves in the transfer market and want an end to the Gervinho situation as soon as possible. Arsene Wenger is keen to sign the centre forward; a player that he believes will be able to take the goal scoring pressure off of Robin van Persie. Gervinho scored thirteen goals last season as Lille stormed to win Ligue 1.
Arsenal is set to offer Jack Wilshere a new long term deal to fend off any interest from Manchester City. The London club are set to offer the midfielder a new five year deal with wages around 50,000 per week, a pay rise of ten thousand a week. Wilshere has become an Arsenal regular as well as an important part of the England set up under Fabio Capello. Arsenal will use the contract as a way of fending off any potential interest from Manchester City who are rumoured to want to sign the player, however it is expected Wilshere will put pen to paper on the new deal in the coming days.
Reports in the News of the World and other newspapers claim that Manchester United are set to test Arsenal's resolve and make another bid to land French star Samir Nasri. Manchester United were rumoured to have had a bid rejected for the midfielder but are willing to increase their bid to around £20m. Arsenal are said to be considering any bods for the midfielder because of his reluctance to sign a new five year contract that has been on the table for months. Arsene Wenger is said to fear Nasri leaving the club next summer on a free and a controversial move to Manchester United could happen.
Barcelona is set to once again make an improved bid to land the Arsenal captain. Stories in the Telegraph claim that Barcelona will increase their bid for the Spanish midfielder to £35m. Barcelona are reported to have had a bid of £30m turned down last week and Arsene Wenger is set to reject a further bid to lure his captain away. Barcelona will only pay what they see as a 'fair price' for Fabregas and have limited their summer spending to no more than £50m. Barcelona will increase their bid to £41m if need be but are reluctant to go any higher in their bid to bring Cesc Fabregas back to the Nou Camp.
In other news, Arsene Wenger has said he is doing all he can to convince Gael Clichy to remain at the club. The left back has been the subject of bids from Liverpool and Roma and is keen to move to Merseyside if the two clubs can agree a fee. However, Wenger told the Sun: 'We have started talk's with Gael and want him to stay.'
Want more transfer gossip? Click here for more transfer rumours from the Premier League and Europe.