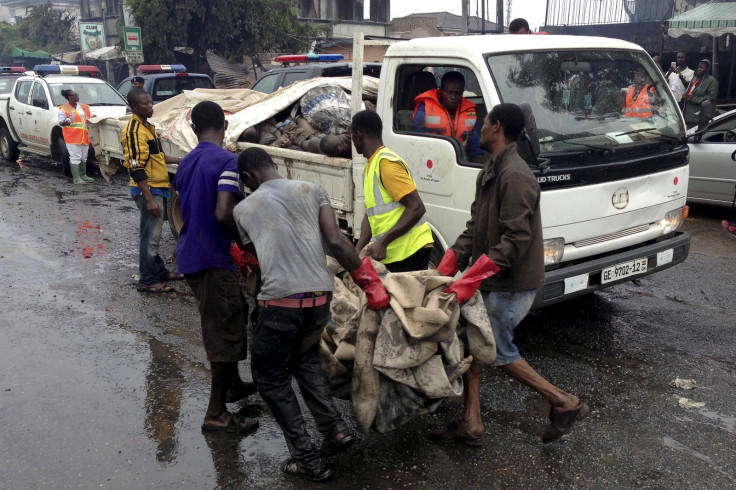 As many as 250 people have been killed in a petrol station inferno in the Ghanaian capital of Accra as authorities fear the death toll could further rise.
Local officials have recovered more than 256 bodies so far from the site of the explosion.
The explosion, which took place when the capital city was struggling to deal with heavy floods, was further triggered by incessant rain. The flooding, which is currently hampering rescue efforts has already rendered scores of residents homeless.
"We are still finding dead bodies, and so far we have recovered over 256 and I can tell you it looks bad. We will continue to search but I'm afraid that we might find more," Ofori Mensah, a rescue worker, told local media outlet VibeGhana.com.
Most of the victims were seeking shelter at the petrol station to escape from torrential rains. A glitch in the power generator is suspected to be the cause of the deadly explosion.
"It was an explosive fire and so the people sheltering at the filling station did not have an opportunity to escape," Prince Billy Anaglate, a member of the fire brigade, told reporters.
Apart from the petrol station, a number of buildings in the vicinity were either badly damaged or destroyed.
Meanwhile, President John Dramani Mahama has declared three days of mourning beginning from Monday, 8 June.
"I think that the time has come for us to remove houses out of water and the public should understand that it is necessary to save everybody else," said the leader of the West African nation following a visit to the petrol station.
"Year in, year out, this continues to happen. Until we attack it scientifically and strategically we will continue to have this problem."
Accra, a city of four million people, has rapidly grown in size in recent years but the Colonial-era infrastructure increasingly fails to cope with residents' demands.