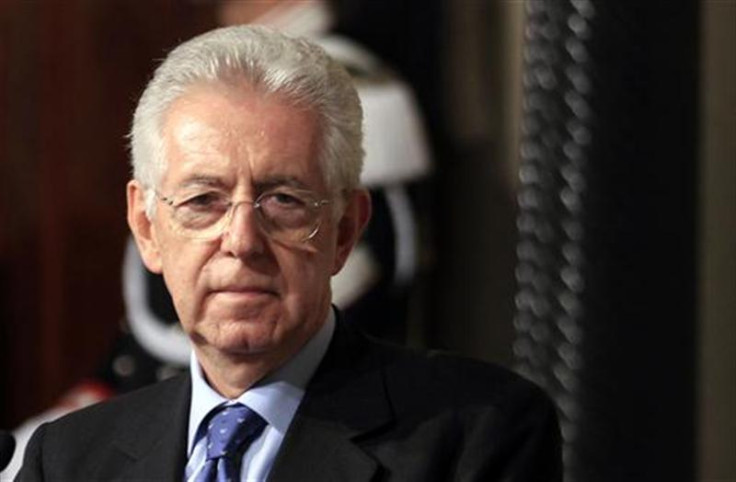 Italy's Prime Minister-designate Mario Monti was still struggling to form a Cabinet as Italian 10-year bonds yields rose back over the sevenper cent mark Tuesday morning.
The seven per cent threshold is considered the unsustainable "point of no return" that prompted Greece, Ireland and Portugal to seek EU bailouts.
Former European Commissioner Monti met leaders of the leftist Democratic Party and is scheduled to see the representatives of Berlusconi's People of Liberty party before talks with unions and employers later.
He said that the first day of talks on Monday had been "constructive". But Italian bond markets are under pressure as yields jump to dangerous levels.
Democratic Party leader Pier Luigi Bersani confirmed his party's support for a Monti government and said it should have "strong technical character". Both leaders of the two major parties dismissed Monti's proposal to pick up representatives across the political spectrum as ministers for the new government.
In a news conference in Rome, Monti expressed his desire to serve as prime minister until regularly scheduled elections in 2013, in contrast with earlier reports that he would pave the way to early elections once he pushes through economic reforms pledged to Europe.
"My commitment is aimed at making sure that politics can transform this difficult moment in a real opportunity for the nation," Monti said. "The key thing is" to have the support of the parties, "without which I wouldn't even take on this task, regardless of the physical presence" of politicians in the Cabinet, he said.
The People of Liberty party has said that it will give conditional support to Monti. But ex-Prime Minister Silvio Berlusconi reportedly told his supporters that his party "can pull the plug whenever" it wants on Monti.
President Giorgio Napolitano offered Monti the post of premier on Sunday, a day after Berlusconi resigned. Berlusconi's government had unravelled after defections ended his parliamentary majority and the country's 10-year bond yield surged to euro-era records.
The new prime minister designate will face a demanding task, as Italy has one of the highest national debts in Europe at €1.9 trillion - about 120 per cent of GDP - and has seen low growth in recent years.
Berlusconi's resignation was harried with cheers, flag-waving and singing celebrations outside his office. A chorus of Handel's Hallelujah Chorus rang out, ending a tumultuous 17-year political era and setting in motion a transition aimed at bringing the country back from the brink of economic crisis.