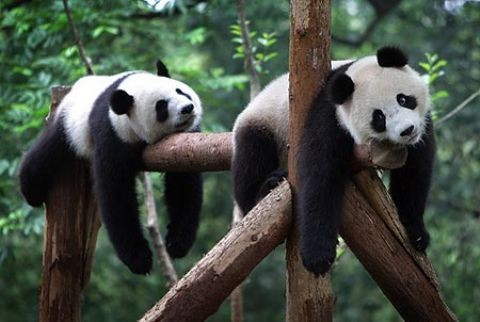 The giant female panda at Edinburgh Zoo has been artificially inseminated after her male companion failed to mate with her.
Specialists performed the procedure on Tian Tian (Sweetie) in the early hours of Saturday 20 April, when it became apparent that the male, Yang Guang (Sunshine), would make no move to impregnate her.
A spokeswoman said the procedures went according to plan and confirmed that both pandas were well, though they would be kept from public view until Tuesday.
"Edinburgh Zoo's specialist team and experts from around the world performed artificial insemination on female giant panda Tian Tian in the early hours," said a spokesman for Edinburgh Zoo.
"Natural mating was not attempted. Yang Guang had been interested and shown consistently encouraging behaviour. However, based on his many years' experience, our Chinese colleague Professor Wang felt that although Tian Tian had displayed all of the correct behaviours, she had also displayed signs that told him she would not be conducive to mating.
"The procedures went very much to plan and they are both well, but will be off show until Tuesday."
The pandas had been under intense scrutiny throughout the week, with a team of experts monitoring the pair as Tian Tian approached her annual 36-hour breeding window. Tests had shown her oestrogen levels rising slowly through the week.
The breeding season for pandas runs from mid-April to May.
The male and female are kept in separate enclosures throughout the year and only come together for mating. During the past week, the zoo swapped the pandas between enclosures in an effort to prepare them for the task in hand.
The pair were also allowed to interact through a grate. Scientists had noted signs of Tian Tian's fertility, including grumpy behaviour and loss of appetite.
Zoo keepers had hoped the pair would mate naturally, but had planned to inseminate Tian Tian artificially whether or not mating occurred.
Should Tian Tian conceive, her pregnancy will be confirmed in mid-July when experts can give her an ultrasound scan. Any cubs would then be due at the end of August or the beginning of September.
Tian Tian and Yang Guang arrived from China in December 2011, and have attracted around 500,000 visitors in their first year, including actress Nicole Kidman and the Princess Royal.