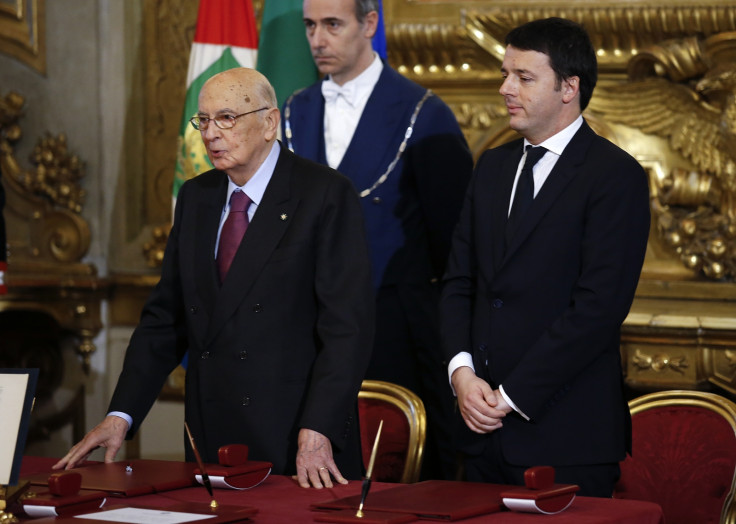 Italian president Giorgio Napolitano has stepped down, leaving Prime Minister Matteo Renzi with the difficult challenge of finding a successor.
Napolitano's resignation was not a surprise as he had long made clear that, due to his advanced age, he would not serve his full second seven-year term.
The 89-year-old politician reluctantly accepted an unprecedented second mandate as head of state in April 2013, as lawmakers' squabbling over his possible successor was causing a parliamentary gridlock amid the raging economic crisis.
In recent weeks, Napolitano repeatedly indicated he was to leave the largely ceremonial role in mid-January. The Quirinal presidential palace announced he signed a formal resignation letter on 14 January.
Pietro Grasso, the president of the Senate, has been appointed as interim president until the new elections, with the parliament and special regional electors expected to hold the first voting session at the end of January.
Early indications suggested two former centre-left leaders, Romano Prodi and Walter Veltroni, are top contenders to replace Napolitano.
The vote represents a delicate moment for Renzi, as it will test the solidity of his coalition government as well as his leadership hold on his Democratic Party (PD), analysts said.
Lawmakers are to use the secret ballot, which often opens the door to political score settling and backstabbing.
"All those who hold a grudge against Renzi might use this moment to set him a trap, so it will be important to see if he comes out alive," Giovanni Orsina, a political analyst and professor of history at Rome's Luiss-Guido Carli University, told IBTimes UK. "This is the most dangerous passage of Renzi's political career."
The PD does not hold a parliamentary majority, leaving Renzi with the task of finding an agreement with other parties on the name of the future president.
According to voting rules, a two-thirds majority is required within the first three rounds. From the fourth round on, the threshold is lowered to a simple majority.
Renzi has already struck an extra-governmental alliance for separate political reforms with Silvio Berlusconi and is likely to extend the deal's spectrum to include the presidential elections.
The alliance is highly unpopular with PD lawmakers to the left of the party, who accuse Renzi of pursuing a centrist agenda inconsistent with its spirit.
Those lawmakers are likely to back the election of Prodi, a prominent figure who risks overshadowing the Renzi's lustre to torpedo the PM's political plans and alliance with Berlusconi.
"Prodi has always been considered the anti-Berlusconi ... and is despised by Berlusconi's electorate, which Renzi is trying to win over," Orsina said. The PM's favourite option to replace Napolitano would be Veltroni, he added.
Others politicians tipped as possible replacements are Turin mayor Piero Fassino, centrist leader Pier Ferdinando Casini and former minister Sergio Mattarella.