Girl, 10, conducts adorable interview with her cat - but it doesn't go to plan
Gabi, 10, interviewed her cat Coco about where she likes to be stroked, and the script has gone viral.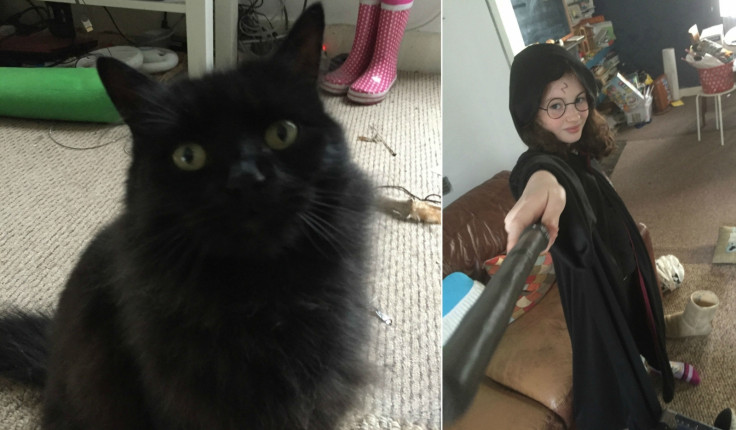 A 10-year-old girl has "interviewed" her cat, with hilarious and adorable results which quickly went viral on the internet and, many fans said, indicate a promising career in writing.
TV writer and director Paul Duane, best known for Secret Diary Of A Call Girl and Amber, shared a scripted handwritten interview conducted by his daughter Gabi with their black cat Coco about where she does and does not like to be stroked, inspired by diagrams posted online dealing with the same topic. But when she was unhappy with her own picture, Gabi got creative with words instead.
Her interview begins by asking Coco if she can stroke her head and back - absolutely, sure, the cat replies. But then it quickly goes downhill. Asked if Gabi can touch her tummy, Coco replies "YOU ARE FORBIDDEN TO EVER TOUCH MY TUMMY!!!"
It continues. "The legs?" "NO!!!" "The tail?" "ABSOLUTELY NOT!" Before ending: "The butt?" "IS THERE SOMETHING WRONG WITH YOU?!?! THIS INTERVIEW IS OVER!!!"
Duane posted a photo of the interview script on Twitter just after 5.30pm on Monday (4 December) and by 7.10pm he was waiting for Gabi to get out of Scouts so he could tell her "she's gone a bit viral". By Tuesday morning, the post had received around 37,000 likes and 13,000 retweets.
When she was told the surreal news about her new-found fame, Gabi, who wants to be an author, said: "Maybe I'll be more famous than Jane Austen!" Duane said things could only improve now, if his Harry Potter-loving daughter was retweeted by JK Rowling.
He told IBTimes UK: "She is very excited to hear that so many people love her writing. I'm very pleased for her and also very pleased that the responses are 100% positive with no Twitter weirdos or whatever."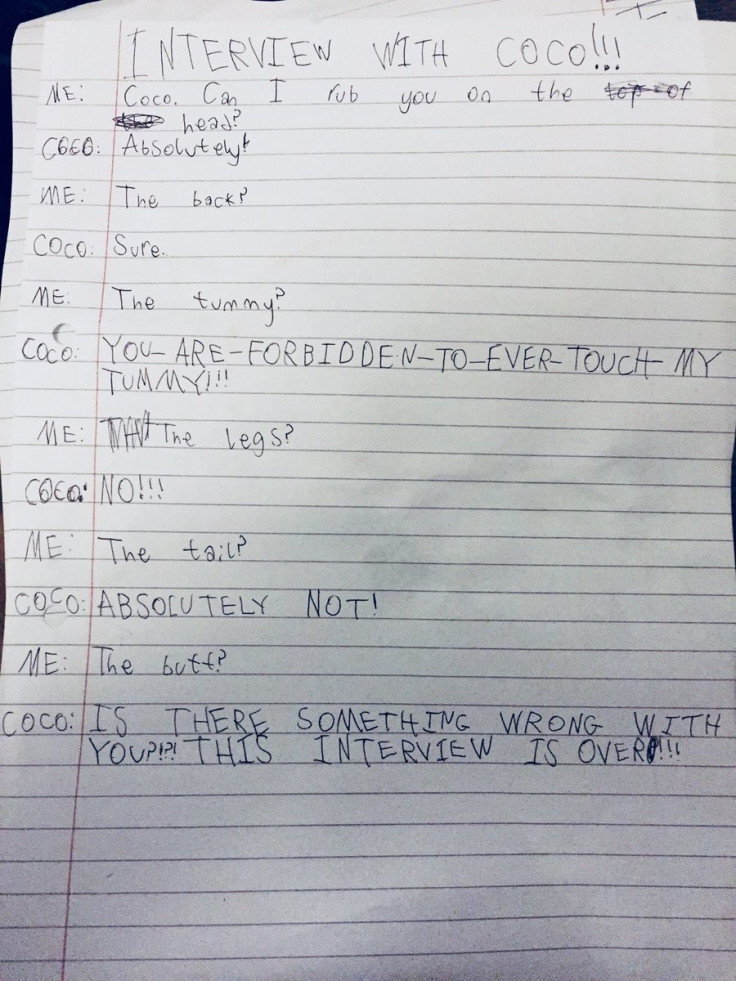 Shedding light on what inspired Gabi's creativity, he explained: "Gabi has always been a big reader, watcher of movies and TV shows and wants to write books, do animation and design video games - so I suppose it's good to have big ambitions and big dreams."
The internet responded overwhelmingly positively to Gabi's talent, with many saying she had a future in writing. One fan asked for more, saying: "Dear Paul's Kid, more please? Perhaps an Interviews With My Cat series? 10/10 would read and laugh again." Debbie Hutchinson suggested Gabi go down a more political route for her next interview: "Best thing I've read all day," she said. "Get her to interview Arlene Foster next with the same line of questioning!"
The world is now waiting with baited breath to see who star inquisitor Gabi will interview next, perhaps when she finishes her schooling.