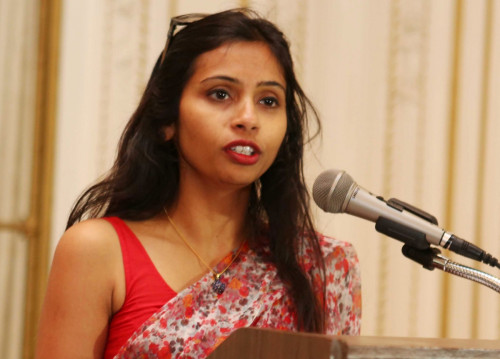 Devyani Khobragade, the Indian diplomat who is at the centre of a diplomatic storm between Washington and New Delhi, has left for India after being formally indicted for visa fraud charges by a US grand jury.
Khobragade, 39, was granted full diplomatic immunity and headed back to her home country, a move that could ease tension between the two countries.
She was indicted on two counts of visa fraud and making false statements.
The Indian foreign ministry has said the US has given Khobragade G1 visa, which grants her diplomatic immunity. Although Washington is believed to have requested Delhi to revoke her diplomatic status, India refused.
Her lawyers have reiterated that she is not guilty and that the charges against her are baseless.
"She knows she has done no wrong and she looks forward to assuring that the truth is known," Khobragade's lawyer Daniel Arshack said in a statement.
Khobragade, then deputy consul-general in New York, was arrested and handcuffed in public on 12 December, following which she was strip-searched, infuriating Indian authorities. The US officials had accused her of underpaying her housekeeper Sangeeta Richard.
Her arrest had angered Delhi, which in turn set off a series of stinging reprisals against American diplomats in India. The Indian government has also been demanding an apology from the US.
Following her indictment, India's external affairs ministry said in a statement: "At the time of her departure for India, Counsellor Khobragade reiterated her innocence on charges filed against her. She affirmed her gratitude to the Government of India, in particular to the External Affairs Minister, and the people of India, as also the media, for their strong and sustained support during this period. She also affirmed her determination to ensure that the episode would not leave a lasting impact on her family, in particular, her children, who are still in the United States."
However, US attorney Preet Bharara, who is spearheading the case against Khobragade, has underscored the Indian envoy will face the charges if she returns to the US devoid of immunity status.
"We will alert the court promptly if we learn that the defendant returns to the United States in a non-immune capacity, at which time the government will proceed to prosecute this case and prove the charges in the indictment," Bharara said in a letter to the court.
An arrest warrant may also be issued subsequent to Khobragade's departure from the US.