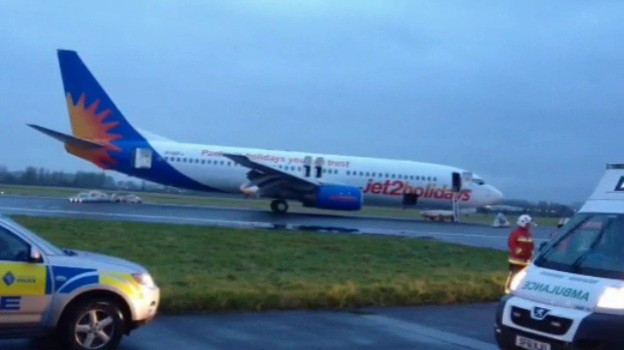 Seventeen people were treated for injuries after a plane filled up with smoke at Glasgow Airport.
The scare happened as a Jet2 flight was preparing to fly 189 passengers to Alicante in Spain.
The aircraft was on runway 05 when it became clear something was wrong inside the Boeing 737. Emergency services were called to the striken plane at 7.40am.
A father of two described the scene as one of "sheer panic."
"We were careering up the runway and smoke started belting out of all the air vents with a smouldering smell," said Stephen McFadden.
"Then the brakes went on and the emergency chutes went out and we were all evacuated.
"I have a nine-week-old daughter and a four-year-old daughter. I had my nine-week-old attached to my chest as I went down the emergency chute and my wife had our four-year-old and was in tears," he told BBC.
Graham Divers, of Glasgow, said: "I was sitting in row 11 and I could smell smoke as we were accelerating hard.
"I looked up. One or two passengers, including myself, had our reading light on and when I looked up to the lamps and the ceiling, I could actually see smoke swirling around and I thought, oops, there's something not right here.
"We were accelerating very, very hard down the runway at this stage and I was about to scream out to the cabin crew when obviously the pilot realised there was something wrong and he immediately throttled the engines back and put the brakes on.
"It's the hardest braking I've ever experienced in my life," he told BBC.
"The pilot aborted take-off and deployed the chutes on to the runway," a Glasgow Airport spokesman said.
Three passengers were sent to hospital for treatment for minor injuries, including one for a wrist injury and another person who suffered a hip injury. An elderly woman was among those taken to hospital.
Thirteen people were treated at the scene for minor injuries in the immediate aftermath of the evacuation. It has yet to be revealed how the injuries were sustained.
An video of the plane standing on the runway was submitted by an onlooker to STV.
Flights in and out of Glasgow were hit by disruption as a result, with a total shutdown declared until after 10am