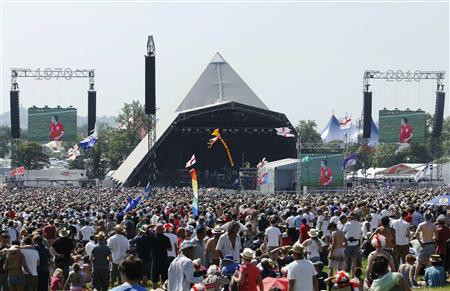 Festival-goers will soon have to wear microchipped wristbands in an attempt to wipe out ticket fraud and touting, but the technology has gained criticism from Glasonbury promoter Michael Eavis.
The wristbands would be used to monitor when customers enter and exit a festival ground, working in a similar way to Oyster cards on London buses and the Underground, but Eavis has raised commercial concerns.
Despite being impressed by the technology, Eavis, 76, told the BBC: "All the commercial implications of the chip are slightly worrying aren't they? I don't want to take people into a land they don't want to go into. And using information about people, I wouldn't be happy about that."
Intellitix, the company behind the wristbands, confirmed that they would be used at "a couple" of UK festivals in 2012, but if the technology proves successful then the bands could be seen at many more in 2013, when Glastonbury returns after a two-year break.
The microchips can also be topped up with money, so festival-goers can pay for food and drink without the risk of carrying cash around with them.
Although raising concerns about monitoring the location of festival-goers, Eavis said that it "seems like an incredible system...it does look as though it's something better than we're doing at the moment." Eavis conceded that he "might be interested" in introducing the wristbands at Glastonbury.
Chief information officer of Intellitix Greg Parmley confirmed that the wristbands cost very little to make, adding: "The last thing this will do is raise general ticket prices."
The wristbands use near field communication (NFC) to communicate with a turnstyle or hand-held scanner used by members of staff; the same technology is used in London's Oyster cards and is starting to make its way into smartphones, too, allowing users to pay for goods by touching their phone on a reader.