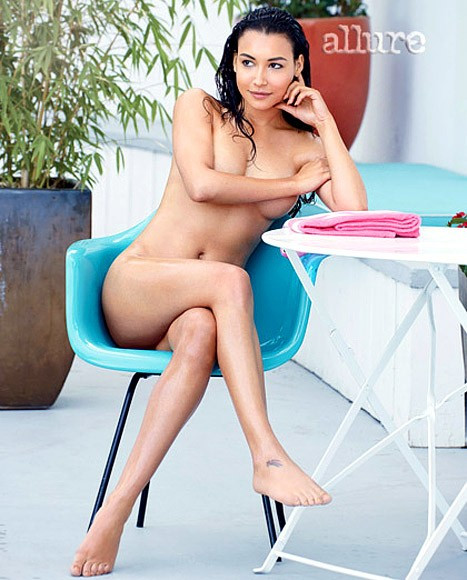 After going public about her new romance with rapper Big Sean, it looks like Glee star Naya Rivera's body confidence has skyrocketed.
The 26-year-old actress has stripped down to her birthday suit to pose nude in the latest issue of Allure magazine.
In the revealing image, Rivera sits on a poolside chair wearing nothing but a seductive smirk. Her legs are crossed strategically and she protects her modesty with carefully placed hands. Her sultry look is completed with slicked-back wet hair.
Rivera, 26, who plays lesbian cheerleader Santana on the hit FOX show, said she had only recently embraced her curves after years of feeling self-conscious about her figure.
"When I was working [as a waitress], I was really skinny -- a lot skinnier than I am now. But I was always self-conscious," she told the magazine. "It's so funny now to feel completely different."
She credited her new-found love of her body to changing her health and fitness regime.
"You can't be so hard on yourself that you're not enjoying every day,' she reveals. 'It just got to be too much so I shelved it. I just started eating right and working out and putting energy into that."
Rivera joins TV stars Jennifer Morrison, Christa Miller and Clare Bowen who also show off their perfectly toned bodies, enviable curves and stunning good looks in the sizzling photoshoot.
House and Once Upon A Time star Morrison, 34, is pictured lying back on a sun lounger with Marilyn Monroe-styled blonde hair and bright red lipstick.
Australian actress Bowen,23, uses her long blonde hair to cover her breasts and a white towel to protect her modesty.
Cougar Town star Miller, 48, who admitted to going to spinning classes for two weeks to get in shape for her first-ever naked photoshoot, poses lying on her stomach in a stunning black and white photograph.