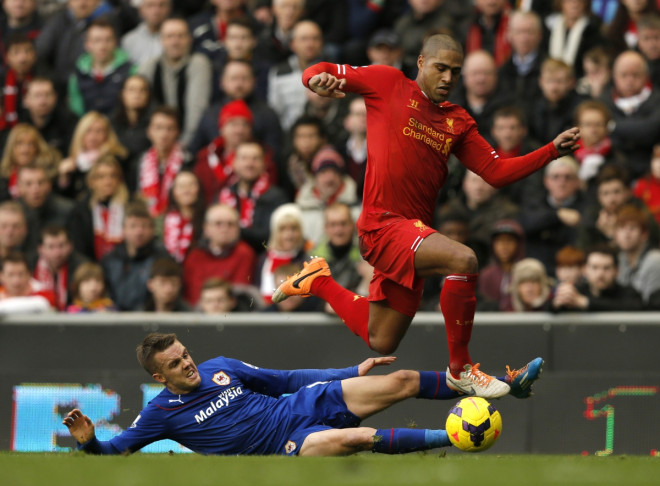 Glen Johnson has revealed that Liverpool are yet to initiate talks on extending his contract which is due to expire in the summer of 2015.
The 29-year-old, who established himself as the Reds' first choice at right-back since joining in 2009, stated that there has been no hint from the club's hierarchy that he will be sold in the summer. The defender also insisted that he will happily extend his stay at Anfield if a new deal is made available.
The England international also expressed his disappointment about speculations regarding his future in Merseyside, labelling it as 'distracting' and asserted that he would like to respect his current deal with the club.
"I've loved every minute of the five years I've been here and I'd love to stay but really the only truth in it is that I've not been offered a new contract on any level," Johnson told the Daily Mail.
"It is an unnecessary distraction. I'm more than happy to sign a new contract and I'd love to stay here for many more years. But at the moment that is not for me to decide because I've not been offered anything and I've not been told I'm going to be sold. I just have to honour my contract and try not to let it distract me," he added.
Johnson's current wage package sees him earn reportedly earn more than £110,000-a-week, making him one of Reds' top earners. But his employers are reportedly reluctant to offer him an improved long-term contract due to his age.
However, the right-back is unsure about the future and with the present scenario, he will leave the club in 2015 for free if there is no contract made available for the former Portsmouth player to sign for the Merseyside club.
"I know some people have been saying Liverpool don't want to pay me my current wages, but I've not heard that. No-one has come to me from Liverpool at all. I don't know the situation the club are in or if they want to renew it. So I've not got a decision to make other than to see my contract out because no-one is telling me any different," he concluded.
Johnson has made 19 starts in the Premier League for Brendan Rodgers' side this season and has managed only one assist so far.