Gold demand in leading consumers China and India fell in the first-quarter from the preceding year's record levels, the World Gold Council has said, but taken together global data indicates that the fundamentals of the market remain intact.
Consumer gold demand in the world's leading buyer China dropped 18% to 263.2 tonnes, with Chinese demand for gold coins and bars down 55% in the first three months of 2014. Jewellery sales rose 10%, however.
Consumer demand in India, the second-largest buyer, fell by just over 25% to 190.3 tonnes, with coin and bar buying down 54% and jewellery consumption slipping 9%.
However, gold consumption the world over remained largely unchanged at 1,074.5 tonnes in the first-quarter. Consumption struck 1,077 tonnes in the year ago period.
In value terms, global gold demand in Q1 2014 was $45bn (£27bn, €33bn), down 21% when compared to the year ago period. The average gold price at $1,293 an ounce was also down 21% on the average Q1 2013 price.
Central bank demand dropped 6% to 122.4 tonnes in the first-quarter, according to the WGC's quarterly report of gold demand and supply for the first-quarter of 2014.
Outlook
Going forward, the WGC expects Chinese gold demand, which peaked at 1,066 tonnes last year, to hover between 1,000 tonnes and 1,100 tonnes in 2014.
It estimated Indian gold demand at between 900 tonnes and 1,000 tonnes for the year.
Indian Import Curbs
India's incoming government is expected to relax tough gold import restrictions in the country after its predecessor raised duty on the bullion and tightened the movement of the precious metal.
The new government's annual budget in early July and the pre-budget economic review could provide hints as to when this will happen, the WGC's head of Indian operations Somasundaram PR told IBTimes UK on 20 May.
Commerzbank Corporates & Markets said in a note to clients: "...Although demand remained virtually unchanged year-on-year at 1,074.5 tons, its composition did change considerably: physical demand for bars and coins collapsed by nearly 40%, while the record-high ETF outflows of last year came to a halt. Industrial demand likewise declined slightly, as did demand from central banks, whereas jewellery demand grew marginally.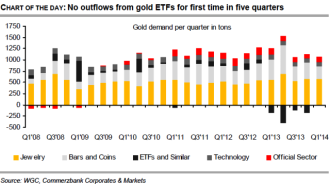 "What is more, the shift in demand towards India and China, which was particularly pronounced last year on account of the massive price slide, weakened somewhat...In both cases this was due to much lower demand for coins and bars. Nonetheless, the WGC expects demand in both countries this year to be relatively stable overall as compared to the record year of 2013."
"[On 19 May], the European central banks signed a follow-up agreement to the third Central Bank Gold Agreement (CBGA III), which expires in September. In it, the signatories confirm that they have no plans to sell significant quantities of gold in the near future, though this time they have chosen not to define an explicit maximum amount - which previously was set at 400 tons per year," Commerzbank added.