A "critical" problem with Google's AdWords service removed advertisements from websites globally for around 90 minutes, potentially costing publishers $1 million (£630,000) an hour in collective revenue.
AdWords, which places adverts on the websites you visit, delivers tens of billions of adverts every day and acts as a major source of income for many news websites.
One of the systems affected is called Doubleclick for Publishers and is used by websites such as Buzzfeed, Vox Media, Daily Mail, Guardian, and the Mirror, who all rely on Google for advertising revenue.
Speaking to Business Insider, a senior advertising source said the outage could be costing publishers collectively "$1 million an hour".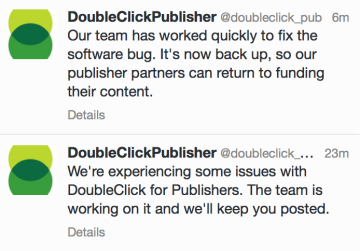 News of the problem began circulating on Twitter at around 2pm on Wednesday, followed by users suggesting their followers visit the affected websites now to enjoy an 'ad-free experience'.
Google said it is looking into the matter, and a user of the Doubleclick forum claims to have received a response from the search giant describing the problem as "critical".
The full response reads: "We're addressing as a 'P0' extremely critical issue across DFP [Doubleclick for Publishers]. We don't have a timeline at this moment but I hope to have a timeline/resolution very soon."
Data from two years ago claims Google serves more than 30 billion adverts every day.