The International Labour Organization has warned that a slowdown in economic growth means more jobs will be lost over the next four years and calculated that 212 million people will become unemployed by 2019.
According to the ILO's World Employment and Social Outlook - Trends 2015 report, more people will be unemployed than in the onset of the credit crisis in 2007.
"More than 61 million jobs have been lost since the start of the global crisis in 2008 and our projections show that unemployment will continue to rise until the end of the decade. This means the jobs crisis is far from over so there is no place for complacency," said ILO director general Guy Ryder.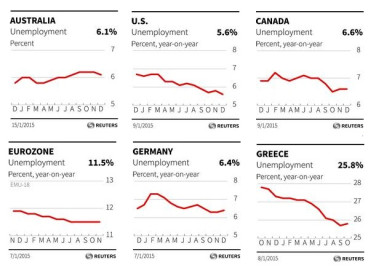 "If low wages lead people to consume less, and investment remains subdued, this obviously has a negative impact on growth. Income inequality in some advanced economies now approach levels observed among emerging economies. By contrast, the emerging economies made some progress in reducing their high levels of inequality."
ILO sees the global unemployment rate hitting 5.9% in 2015 and 2016, which is a rise from 5.5% before the global financial crisis.
The group added that young workers aged 15-24 will be the worst affected as youth is already at a global rate of 13% for 2014.
The youth unemployment rate "is practically three times higher" than for their adult counterparts, the report added.
"In several advanced economies, where inequalities historically have been much lower than in developing countries, income inequalities have worsened rapidly in the aftermath of the crisis and in some instance are approaching levels observed in some emerging economies," said ILO.
"In emerging and developing economies, where overall inequalities have typically fallen, levels remain high and the pace of improvement has slowed considerably."