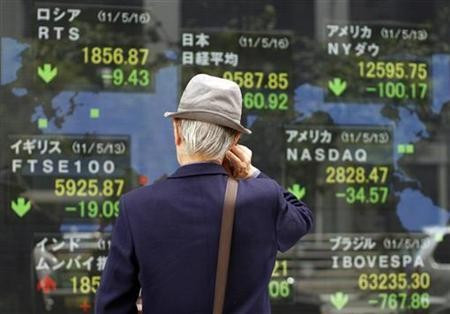 Markets across the globe kicked off on a high note on Tuesday as Asian shares and the euro rebounded from their lows.
Investors will be looking forward to European policy makers for concrete actions to tackle the eurozone crisis at the G7 emergency talks on Tuesday.
Reuters reported that the euro rose 0.2 percent to $1.2526 against last week's low of $1.2288, the lowest in nearly two years.
MSCI's index of Asia-pacific shares outside Japan surged 1.2 percent after tumbling 2 percent on Monday.
European shares are also expected to do modestly well amid prospects of fresh action on the crisis.
As US stock futures were up by 0.4 percent, the European market is likely to see a similar trend.
Japanese stocks witnessed an average increase of 0.8 percent in the Nikkei index while Shanghai copper surged 1.5 percent. US crude rose by 0.9 percent to $84.75 a barrel after its nearly-eight-month low on Monday.
According to a Reuters report, the Australian dollar rose to $0.9790 indicating a meek growth. The Japanese yen was at 78.33 yen against the US dollar and 98.15 against the euro.
"Investors are pinning their hopes on the G7 and the ECB meetings and have taken on a bit of encouragement as well from signs of a German policy shift," said Ham Sung-sik, an analyst at Daishin Securities in Seoul, according to a Reuters report.
"But we still need to see some tangible results to say a bottom has been carved out in the market," Ham added.
Finance ministers of the US, the UK, France, Germany, Japan, Canada and Italy will hold a special conference over the phone in order to take quick measures on the eurozone crisis.
The European Central Bank will release its policy decision on Wednesday which will also be keenly followed by investors.
The markets are seemingly skeptical of the outcome of the talks since the previous measures are yet to pull the eurozone out of the crisis.
Uncertainty over the economic recovery will much depend on the Greek parliamentary election scheduled for 17 June.