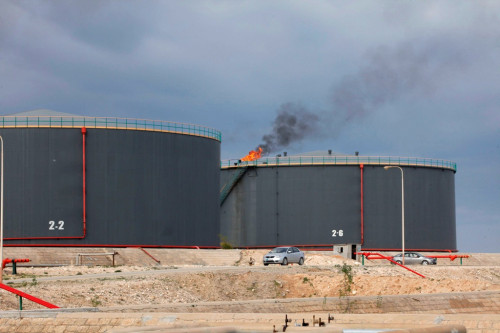 Global oil futures rose on 17 January amid downbeat US consumer sentiment data that dimmed the outlook for energy demand in the world's leading oil consumer.
For the week as a whole, futures witnessed mixed trading.
February US crude oil contract inched up 41 cents, or 0.4%, to finish at $94.37 a barrel on 17 January, and prices shot up 1.8% for the week, according to FactSet data.
March Brent crude oil contract added 73 cents, or 0.7%, to finish at $106.48 a barrel on 17 January and prices shed 0.2% for the week.
US Oil futures traded at around $94.38 on 17 January, ahead of the release of consumer sentiment figures. The University of Michigan and Thomson Reuters gauge of consumer sentiment for January logged a drop to 80.4, from 82.5 in December.
Commerzbank Corporates & Markets said in a 17 January note to clients: "Brent is continuing its downswing of recent days and is trading this morning at a two-month low of $105.5 per barrel. Its price slide since [16 January] is largely due to a contract rollover - the February contract, which expired on [16 January], closed trading in the evening at $107 per barrel. The weakness in the Brent price has resulted in the price gap between Brent and WTI narrowing to $11 per barrel."
"At the same time, WTI has been able to gain by $3 in the past three days of trading on the back of sharply falling US crude oil stocks. The expectation that supply from Libya and Iran could soon return to the market should initially continue to put selling pressure on Brent. That said, the negotiations with Iran will take several months, and it is by no means certain as yet that they will ultimately lead to sanctions being lifted."
"Libya is likely to find it difficult to normalize production for as long as the oil terminals in the east of the country remain closed. Protesters even threatened recently to reoccupy an oil field in the west of the country that had only gone back into operation a short time ago. It therefore remains to be seen whether the oversupplied oil market anticipated by market participants will in fact materialize," Commerzbank said.
"At the moment, the oil market is largely balanced. According to OPEC's monthly report published on 16 January, OPEC actually produced somewhat less oil in December than will be needed on average this year. According to consultant firm Oil Movements, OPEC supply is set to decline further in January, for OPEC shipments are expected to drop to a two-month low in the four weeks to 1 February," the German bank added.
Oil Demand To Rise
Oil prices drew support from a report by the Organization of Petroleum Exporting Countries (Opec) on 16 January that said global oil demand would increase by 1.05 million barrels per day to 90.91 million barrels per day in 2014.
However, Opec expects the demand for its crude oil to decline amid increasing supplies outside of its member countries -- in the US, Canada, Brazil and the Sudans.
Crude also drew support from a weekly-report by the US Energy Information Administration (EIA) on 15 January that revealed a larger-than-expected draw of 7.7 million barrels last week, bringing the seven-week decline in inventory to 41.2 million barrels.