Global Stocks Mixed, Yen Falls Ahead Of Fed Decision
Global stocks were mixed Tuesday following uneven economic data while the yen tumbled against the dollar ahead of a Federal Reserve decision.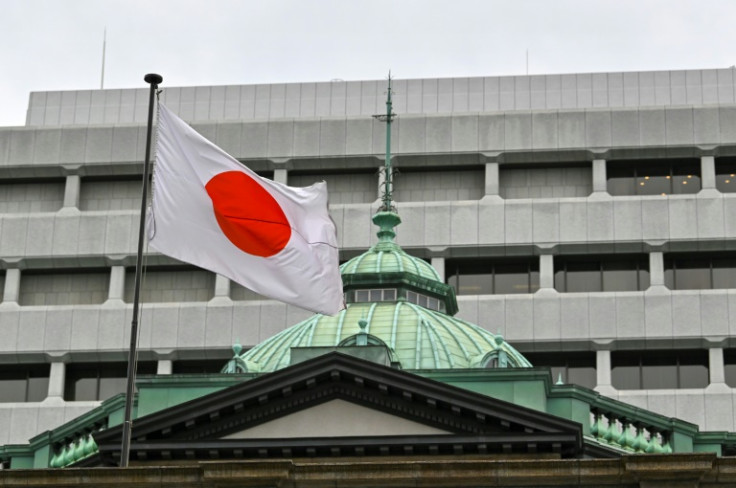 Global stocks were mixed Tuesday following uneven economic data while the yen tumbled against the dollar ahead of a Federal Reserve decision.
Wall Street stocks shrugged off early weakness, advancing for a second straight session. The S&P 500 finished up 0.7 percent.
The gains follow a bruising stretch for US equities that has left markets "extremely oversold," said Art Hogan of B. Riley Wealth Management.
Investors have been reassured that US Treasury yields have stabilized, while oil prices and the US dollar have also not continued to soar, Hogan said.
Analysts expect the Fed to hold interest rates steady on Wednesday.
"The consensus in the market is that the Federal Reserve will maintain its current interest rate stance this week," noted SPI Asset Management analyst Stephen Innes.
"In a world marked by significant uncertainty, this has been the prevailing sentiment."
On Tuesday, the Bank of Japan announced a minor tweak to its unconventional policy of controlling government bond yields, stopping short of expectations and sending the yen lower.
In July the BoJ raised to one percent the de-facto upper limit of a tolerated band in which it allows yields to move.
A media report on Tuesday said officials might widen this as they see inflation rising and the yen tumble against the dollar but the BoJ said only that it "will conduct yield curve control with the upper bounds of 1.0 percent for those yields as a reference."
Near 2100 GMT, the dollar was at 151.68, up more than 1.7 percent from Monday's level.
While Wednesday's Fed meeting could propel the dollar higher, "the Federal Reserve interest rate decision may produce headwinds for the greenback as the central bank is expected to keep US interest rates on hold," said David Song, strategist at Forex.com.
Earlier, European bourses wobbled in afternoon trading after morning gains, as investors processed news about the eurozone economy that raised the prospect the European Central Bank may not need to raise interest rates further.
Eurostat said the eurozone economy shrank by 0.1 percent in the third quarter after an anemic 0.2-percent growth in the second quarter.
But consumer price inflation in the eurozone slowed to 2.9 percent, Eurostat data for October showed Tuesday -- down from 4.3 percent in September and the lowest rate since July 2021 when it reached 2.2 percent.
Chief market analyst for XTB, Walid Koudmani, said the lack of growth and slowing inflation "alleviates the pressure on the European Central Bank to further raise interest rates".
New York - Dow: UP 0.4 percent at 33,052.87 (close)
New York - S&P 500: UP 0.7 percent at 4,193.80 (close)
New York - Nasdaq: UP 0.5 percent at 12,851.24 (close)
London - FTSE 100: DOWN 0.1 percent at 7,321.72 (close)
Frankfurt - DAX: UP 0.6 percent at 14,810.34 (close)
Paris - CAC 40: UP 0.9 percent at 6,885.65 (close)
EURO STOXX 50: UP 0.8 percent at 4,061.12 (close)
Tokyo - Nikkei 225: UP 0.5 percent at 30,858.85 (close)
Hong Kong - Hang Seng Index: DOWN 1.7 percent at 17,112.48 (close)
Shanghai - Composite: DOWN 0.1 percent at 3,018.77 (close)
Dollar/yen: UP at 151.68 yen from 149.10 yen on Monday
Euro/dollar: DOWN at $1.0576 from $1.0615
Pound/dollar: DOWN at $1.2142 from $1.2170
Brent North Sea crude: FLAT at $87.41 per barrel
West Texas Intermediate: DOWN 1.6 percent at $81.02 per barrel
© Copyright AFP 2023. All rights reserved.