This year will be the hottest ever recorded, with global land and ocean average surface temperatures 0.68C above the 20<sup>th century average.
The US National Oceanic and Atmospheric Administration (NOAA) announced its findings with the global analysis of weather for October.
"The first 10 months of 2014 (January–October) were the warmest such period since record keeping began in 1880, with a combined global land and ocean average surface temperature 0.68°C (1.22°F) above the 20th century average of 14.1°C (57.4°F), surpassing the previous record set in 1998 and tied in 2010 by 0.02°C (0.04°F)," NOAA said in a statement.
"2014 is currently on track to be the warmest year on record. The most recent 12-month period, November 2013–October 2014, broke the record (set just last month) for the all-time warmest 12-month period in the 135-year period of record, at 0.68°C (1.22°F) above average, with November 2013 and May, June, August, September, and October 2014 all record warm for their respective months."
Researchers said the combined average land and ocean surface temperature was the highest on record for October – the third consecutive month there has been record-high temperatures.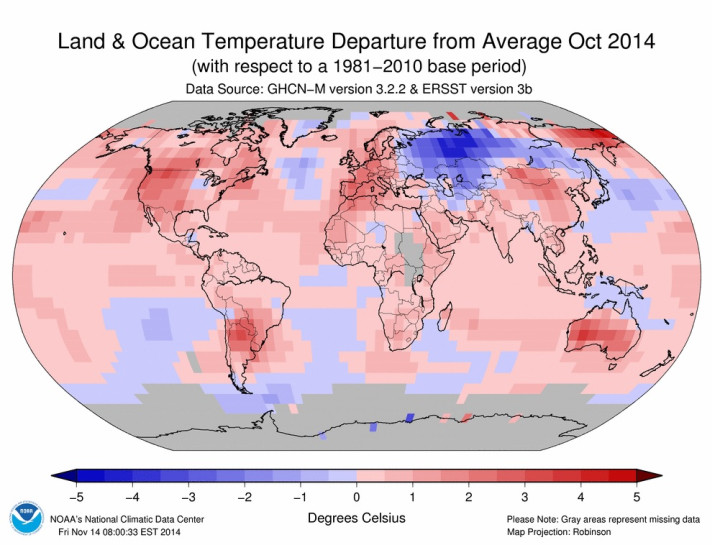 "The record high October temperature was driven by warmth across the globe over both the land and ocean surfaces and was fairly evenly distributed between the Northern and Southern Hemispheres.
"The Southern Hemisphere was record warm overall with a record high land surface temperature for the month. The Northern Hemisphere was third warmest on record for October, with a record high average sea surface temperature."
The announcement comes as wealthy nations across the globe pledge billions to help poorer countries deal with climate change.
Over £600m has been pledged by the UK government, with ministers defending the decision to contribute to the Green Climate Fund after critics said it would be better spend on problems closer to home.
Energy Secretary Ed Davey said: "People recognise that we live in a global economy where when something happens in another part of the world it can impact on our lives here. The idea we should be isolationist Little Englanders is absolute nonsense."