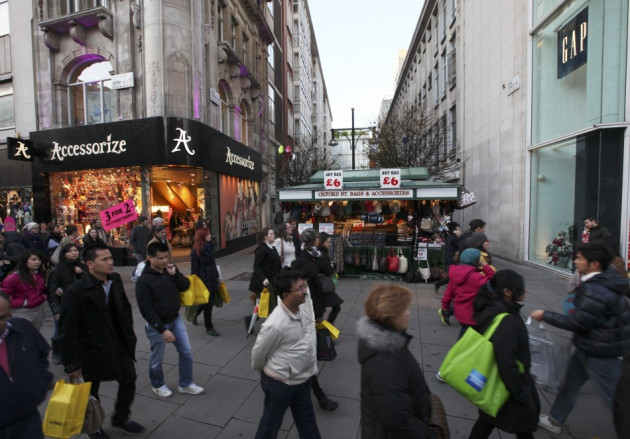 As shoppers feel the wintry economic bite, so do the shopkeepers, with latest figures showing a drop in retail sales from October to November.
This comes just at the time you'd expect Christmas shoppers to start buying presents.
Sales figures fell 0.4 per cent between the two months, according to the Office for National Statistics (ONS).
Average weekly spend on online retailing shot up though, from £546.4 million to £787.9 million.
The rise in internet shopping will mean fewer people in shops on the High Street.
In turn this could explain why sales have fallen, as fewer people are sucked in by deals as they walk around the shops.
Businesses also struggled to sell their new winter products, owing to the extended and warm autumn.
There was some good news in the food sector, as they reported a 0.6 per cent rise in sales.
Supermarkets have been in a price war since the end of summer, slashing prices across the board to keep sales volume up and limit wasted stock.
'Room for Optimism'
"Negative growth is always disappointing and reduced demand for jewellery, computers, mobile phones and watches seems responsible, but if we delve a little deeper there is room for some optimism," said Caxton FX analyst Richard Driver.
"September and October's figures have been revised up and the last three months as a whole posted 0.7% growth, the largest since August 2010.
"Many shoppers took advantage of early discounts in October, so a calmer November was to be expected. Nonetheless, I'm positive that a Christmas spending spree is likely to come and this would be very welcome."
However he added that the "outlook for 2012 is pretty grim".
"Consumer confidence is declining sharply and all the talk of another UK recession is understandably reducing appetite on the High Street."
There was less optimism from the British Retail Consortium (BRC), which represents retailers.
"These ONS figures seem to fly in the face of retailers' experiences on the streets," said Stephen Robertson, BRC's Director General.
"The evidence we're receiving suggests consumers have approached this Christmas with great caution, reining in their spending in November and leaving it late to start their Christmas shopping.
"The values retailers reported to us showed November sales barely up on a year ago, the weakest growth for six months.
"The continuing high levels of pre-Christmas discounting and promotions are another symptom of weak demand."
Robertson added: "Retailers know they need to fight hard for every pound that's out there in the hope of attracting business which would otherwise go to their rivals."
End of a Tough Year for Business
These latest sales figures are another scar on the backs of British businesses, in what's been a turbulent year.
Economic growth is stalling and consumers are being hammered by near five per cent inflation, while wages are frozen.
There are also now 2.64million people out of work.
Many businesses have gone bust, forced into administration in 2011 because of dire financial circumstances or a lack of available credit from lenders.
Most recently shoemakers Barratts Priceless Limited went into administration, putting 3,000 jobs at risk.
Other businesses thrown into turmoil this year include car manufacturers Saab UK and furniture stores Habitat.
Prospects don't look good for next year, either.
Prime Minister David Cameron has apparently told a group of MPs that 2012 will be the toughest year for Britain since the 1980s.