Godfrey Bloom Quits as Ukip MEP Over 'Sluts' Row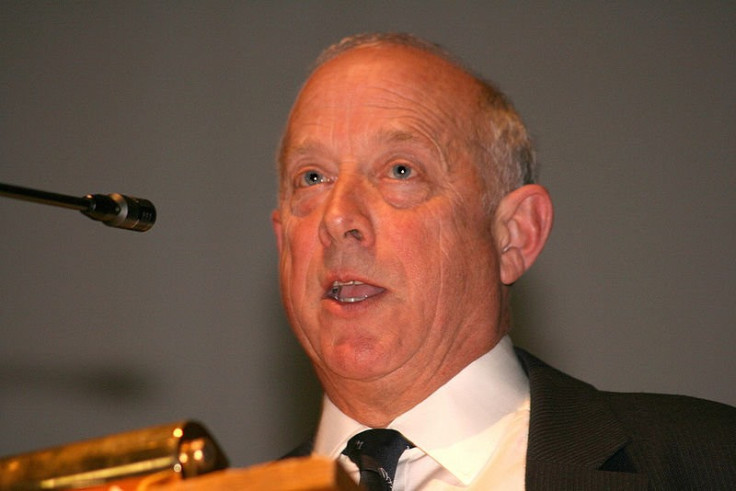 Godfrey Bloom has resigned as a Ukip MEP after losing the whip in a row over derogatory remarks he made about women.
Bloom was stripped of the Ukip whip after saying that a "women in politics" event was "full of sluts", and then attacking a journalist with a copy of the party's brochure during its annual conference in London.
Although the withdrawal of the whip did not affect Bloom's position as Ukip MEP for Yorkshire and the Humber, he has decided to disaffiliate from the party in the European Parliament.
Explaining his decision, Bloom said he will remain as an independent member until the end of his term, and will continue to be a member of Ukip.
The 63-year-old said: "I have felt for some time now that the New UKIP is not really right for me anymore perhaps than New Labour was right for Dennis 'The beast of Bolsover' Skinner.
"I shall sit out my term as an independent and give my wholehearted support to Jane Collins who is almost certainly going to be the next UKIP MEP and probably a second seat yet to be decided.
"I shall of course retain my membership."
Bloom had previously been criticised for using the phrase 'Bongo Bongo Land' to describe countries which receive aid from the UK.
In the aftermath of Bloom's latest comments, Ukip leader Nigel Farage said the MEP, who sits on the European Parliament's rights and gender equality committee, had "gone beyond the pale."
Farage told the BBC: "My own view is that Godfrey's behaviour is selfish and is beginning to overshadow all the good things that are happening [within Ukip].
"He should be considering his position in the party."
Colourful comments
Bloom attracted heavy criticism in August for claiming that Britain sent billions of pounds in aid to 'Bongo Bongo Land' and the recipients spent it on "Ray-Ban sunglasses, Ferraris and apartments in Paris".
He then stormed off a television interview when pressed about the incident, while claiming that Bongo Bongo Land was merely "the sort of phraseology we used years ago."
The latest controversy began when a pair of female Ukip members discussed Bloom's previous claim that women do not "clean behind the fridge enough".
Bloom heckled that the debate was "full of sluts." However he subsequently claimed the remark was intended as a joke and was greeted with laugher from the audience.
As he left the venue, he was asked by journalist Michael Crick why a picture in Ukip's conference brochure did not contain a single black person.
Bloom responded: "What a racist comment. How dare you? That's an appalling thing to say. You're picking people out for the colour of their skin. You disgust me, get out of my way.
"Appalling man. Racist. You, sir, are a racist. You take this and you've checked out the colour of people's faces."
© Copyright IBTimes 2023. All rights reserved.