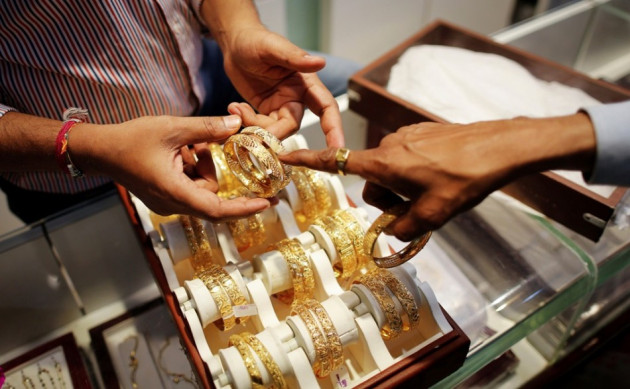 Gold prices are poised to move sideways next week, with several analysts saying the precious metal could extend the week's modest gains while others are of the view that the rally would be short-lived if the US releases upbeat nonfarm payrolls data, due on 6 December.
As many as seven of 20 analysts polled by a Kitco Gold Survey said they expected gold prices to go up. Seven predicted that prices would drop while six analysts forecast prices to remain unchanged.
The US economy is recovering, albeit at a slow pace. The market expects the US to have created 185,000 nonfarm jobs in November. America had added a better-than-expected 204,000 jobs in October.
On 27 November, the Thomson Reuters/University of Michigan gauge on US consumer sentiment came in at 75.1 for the month of November, beating expectations.
The number of Americans claiming government-sponsored unemployment benefits fell for the sixth time in seven weeks. Initial claims for jobless benefits, a measure of layoffs, decreased by 10,000 to a seasonally adjusted 316,000 in the week ended 23 November.
On 26 November, US government data showed that building permits for future home construction shot up 6.2% to a seasonally adjusted annual rate of 1.03 million units in October. That rate of increase is the highest since June 2008. Permits increased by 5.2% in the preceding month.
Positive economic data could force the Federal Reserve to trim its $85bn-a-month bond buying stimulus as early as 18 December.
Any reduction in the Fed's asset buying would boost the US dollar and eventually weigh down on gold prices.
Ken Morrison, founder and editor of an online newsletter Morrison on the Markets, told Kitco: "I look for a modest rally in the week ahead to $1,265-75."
"Open interest has declined over the past week, indicating pressure from new short sellers is not the factor it has been in recent weeks. The budget talks in Washington should begin to be headline news again with the Dec. 13 'deadline' for an agreement less than two weeks away when the week begins."
Ira Epstein, director of the Ira Epstein division of The Linn Group said: "Better U.S. economic (data) continue to point to the eventuality of beginning the tapering process."
"In front the employment numbers due out on (Dec. 6), the odds favor that gold traders will act fearful as too good a number means tapering sooner rather than later. On the other hand, a weak employment number might mean (Fed chief nominee) Janet Yellen will get to put her own stamp on how she interprets economic numbers. Either way, gold continues to be in trouble."
Gold Ends Higher

Spot gold was up 0.6% at $1,251 an ounce on 29 November. Prices were up 0.2% a week ago, despite several analysts saying an improving US economy could put pressure on the metal's safe-haven investment allure.
US gold futures for delivery in February finished at $1,250.40 an ounce on 29 November.
For the week as a whole, gold futures inched up $5.80.
Short Supply in India
A short supply of gold in India, the world's largest consumer of the precious metal, is forcing Indians to recycle family heirlooms, melted down to be reused as gifts during the ongoing wedding season.
Government restrictions on surging gold imports, blamed for amplifying the country's trade deficit, and three upward revisions to the import taxes on gold, have made it hard for jewelers to source the raw material.
Jewellers across the country are now buying old gold to cater to the wedding demand.
Gold traders expect about 400 tonnes of recycled gold to enter the market this financial year to March 2014. Normally, about 130 tonnes of old gold gets recycled, according to Thomson Reuters GFMS data.