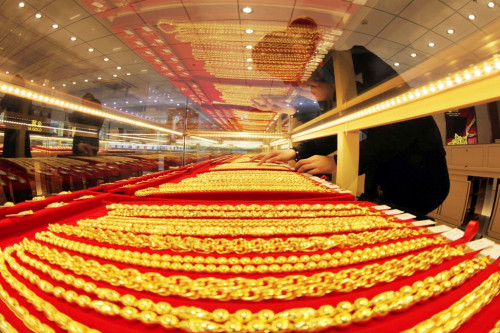 Gold prices are set to rise next week given that the short-term technical chart trend remains supportive, particularly as share prices weaken.
As many as 11 of 21 analysts polled in a Kitco Gold Survey said they expected gold prices to rise, while seven predicted that prices would drop and three forecast prices to remain unchanged.
Next week's gold trade will be influenced by two major events – the continuation of the Chinese New Year holidays that would hit raw gold demand in the world's largest gold market, and the release of US nonfarm payrolls data at the end of the week.
However, jewellery demand is likely to rise as the period is considered auspicious.
Afshin Nabavi, head of trading at MKS SA told Kitco: "It really feels like no one is in the market. I wouldn't be surprised if we are in a range next week. We couldn't get our head above $1,275 but yet we can't get below $1,225ish. Next week is a big week because of the nonfarm payrolls and it's possible we could be range-bound until then. The New Year celebrations go until [5 February], but I don't expect any Chinese traders to come back to the market until [10 February]."
Adrian Day, president and CEO of Adrian Day Asset Management told Kitco: "I feel certainly on tapering is a positive for gold, removing the uncertainly that hurt gold over the past eight months. Moreover, the likelihood that they will cut back on the taper one month in the near future would be quite positive for gold, in my view."
Gold Ends Lower
Spot gold finished 0.3% lower at $1,239 an ounce on 31 January amid signals that the US economic recovery was gaining momentum.
US gold futures for delivery in April finished $2.60 lower at $1,239.80 an ounce on 31 January.
For the week as a whole, futures were down 1.9% after five consecutive weeks of gains.
Chinese premiums had dropped to $4 just before the start of the Chinese New Year holidays, from over $20 earlier in the month.