Golden Dawn Neo-Nazi Thugs Assault Police Van Carrying Pakistani Murder Suspect [VIDEO]
Members of the neo-Nazi Golden Dawn party have assaulted a police vehicle as it left a ferry in Piraeus harbour, carrying a Pakistan man who has been accused of attempted murder.
Local media report that the far-right activists waited until the ferry had docked, and intercepted the vehicle as it came down the disembarkation ramp. Around 20 activists attacked the van, with a further 50 shouting slogans a short distance away.
The van managed to get off the ramp, although its windshield was broken in the attack.
The Pakistani suspect, 21, has already confessed to assaulting and raping a 15-year-old Greek tourist on the island of Paros. The girl remains in a critical condition in hospital.
The suspect said he beat the girl's head on some rocks when she refused to hand over her cell phone, which he was trying to steal. She was found with the bottom of her bathing suit removed.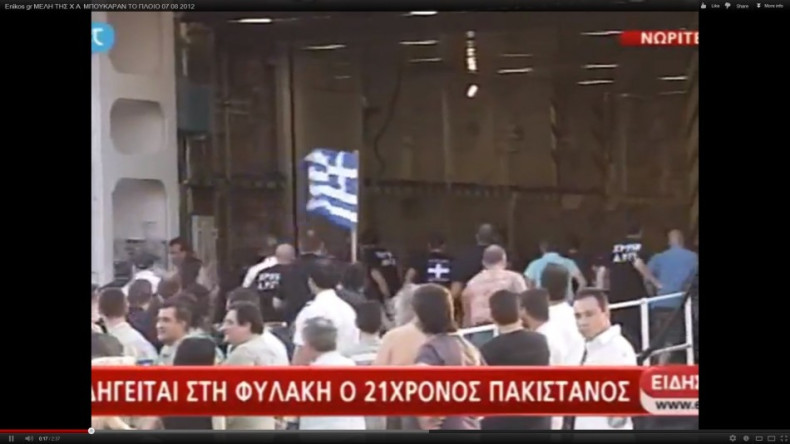 The Golden Dawn attack comes as the New York-based Human Rights Watch (HRW) has called on Greece to stop its massive round-ups of migrants, which the organisation claims are based on "little more than their physical appearance".
HRW warns that the campaign against suspected illegal immigrants, which resulted in more than 6,000 people being detained by police in just over a week, violates international standards.
More than 1,500 illegal immigrants have been arrested for illegal entry during the round-up campaign, and are now poised to be deported, according to Greek police.
Left-wing opposition parties have criticised the mass expulsions, but the far-right Golden Dawn party, which stood in the last election on a platform of blatant xenophoboia, is likely to welcome the move - having recently orchestrated a campaign of food donation, restricted to those who could prove they were Greek..