Golden Globes 2014 Photos: The Hot Red Carpet Fashion Trends
Being the first major televised award show of the season, Golden Globes' red carpet has been a trend setter for gowns and style for the entire year.
Lupita Nyong'o wowed in a sexy, caped red silk strapless gown from Ralph Lauren and Lena Dunham showed up Sunday night in form-fitting canary yellow — tattoos out — for the Golden Globes, one of Hollywood's biggest fashion fests.
Hal Rubenstein, editor-at-large of InStyle magazine, gushed about Nyong'o's column dress and overall look, especially for an actress virtually unknown until her appearance as Patsey in "12 Years a Slave."
Jennifer Lawrence chose white Dior, with two tiers on a full skirt cinched at the waist and below by black trim. Julia Roberts wore a black gown topped by a white, button-down collar shirtwaist look from Dolce & Gabbana. "It's a very interesting intersection of eveningwear and daywear, but one that you have to be her to wear," stylist Robert Verdi said.
Cate Blanchett provided a Katharine Hepburn moment in Armani with high lace at the neck and a how-low-can-you-go back, along with Chopard earrings.
Amy Poehler picked three custom gowns from Stella McCartney, including a slinky black halter look.
Amy Adams wore two shades of red in a backless high-waisted halter dress with a plunging neckline to the waist by Valentino. It evoked her risque-dressing '70s character in "American Hustle."
This year's red carpet had some bold colour thanks to Reese Witherspoon in bluish turquoise from the Calvin Klein Collection and a pregnant Olivia Wilde in emerald Gucci. Also pregnant, Drew Barrymore was pretty at the podium in a gown with a sheer overlay adorned with red and pink embellishments.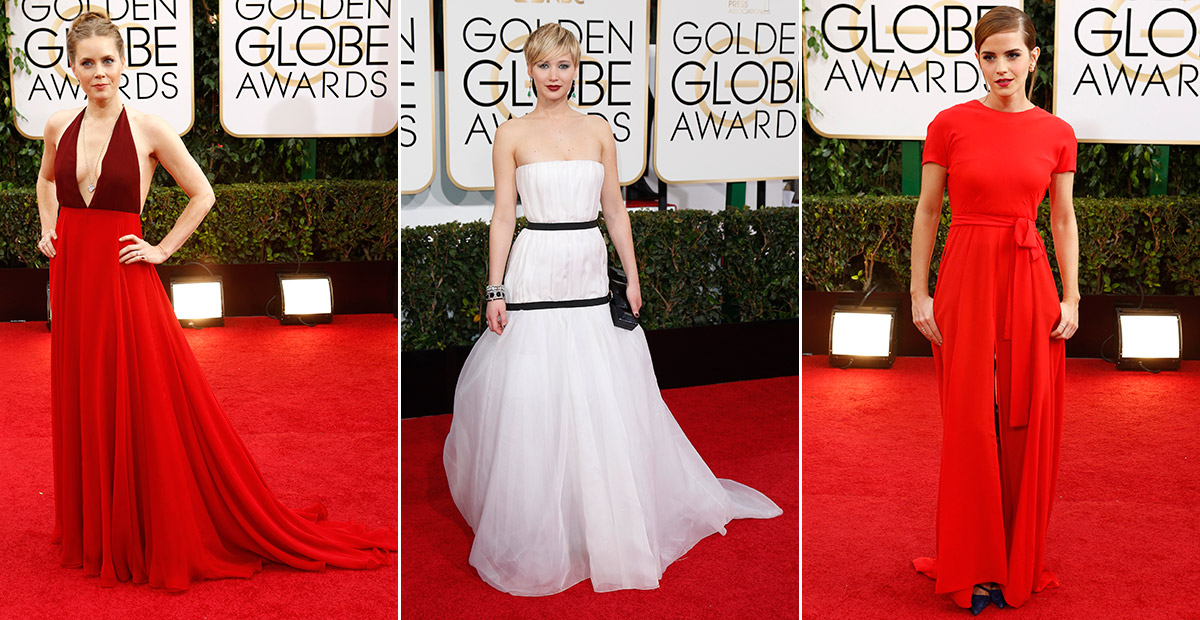 © Copyright IBTimes 2023. All rights reserved.