World number one Rory McIlroy will have the chance to show why he is considered the natural heir to the throne of Tigers Woods when the pair go head-to-head at an 18-hole exhibition event in China.
McIlroy claimed his second major last weekend when he won the USPGA at Kiawah Island but he has some way to go before matching the achievements of Woods who has 14 to his name.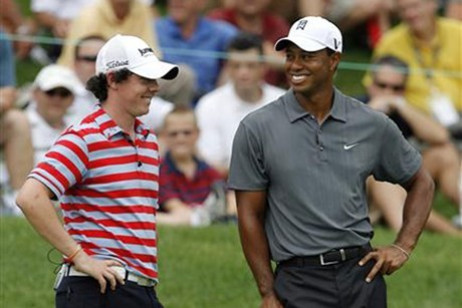 The world number three has shown glimpses of his best form in recent months, but has often struggled on the final day of the majors.
Now Woods will have the chance to test his game against the young Ulsterman when they commence battle at the Lake Jinisha International Golf Club on Monday 29 October.
Both players are competing in Asia the week before the event and it will be a chance to see how they perform when competing head-to-head.
McIlroy dominated the field in South Carolina last week as he eneded up eight shots clear of his nearest rival to claim his second major at a slightly younger age than Woods managed the same feat.
"It's an exciting concept and it will be a lot of fun going head to head with Tiger. I can't wait for it," said McIlroy.
"The duel at Jinsha Lake will be the first time myself and Tiger have come together to play a 'one-off' match like this, so I'm really looking forward to it.
"I've always looked up to him as a player. What he's achieved in the game is remarkable."
It may not be the first time the pair face-off as one month earlier they are both certain to feature in the Ryder Cup.