Google Barge Will be 'Unprecedented Artistic Structure' with 'Fish Fin' Sails
Google's mysterious barge will be an unprecedented artistic structure reminiscent of fish fins.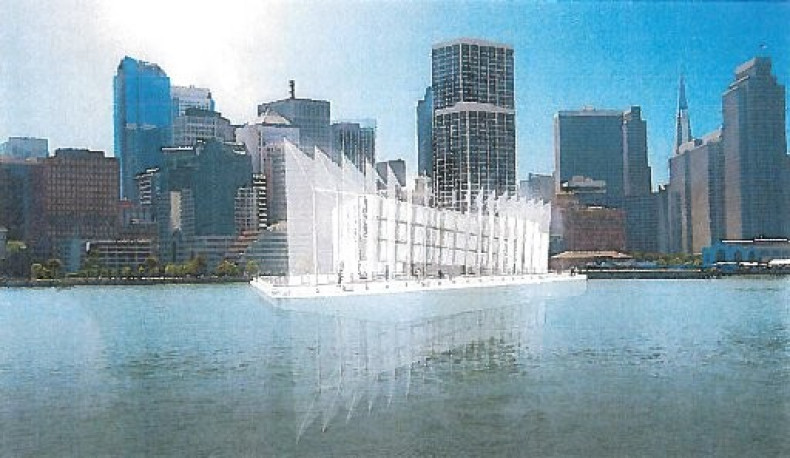 Initially no one knew what the mysterious barge was. It was docked in the shadow of the Bay Bridge off Treasure Island in San Francisco. It was surrounded by scaffolding and people going on board were made to sign non-disclosure agreements.
Then a second one appeared on the other side of the country in Portland, Maine and interest cranked up a notch. The barges were registed to a company called By and Large - the name of the company which runs giant space ships in Disney Pixar's Wall-E film.
The company was soone linked to Google and so began wild speculation as to what the barges could be used for.
Floating data centres, party boats, Google Glass showrooms.
Earlier this week Google moved to dampen some of the more over-hyped speculation by coming out and claiming ownership of the barges, saying:
"Google Barge...a floating data centre? A wild party boat? A barge housing the last remaining dinosaur? Sadly, none of the above."
No dinosaurs
So no dinosaurs, but what are these barges going to be used for?
All Google would say is that the barges would used as an "interactive space where people can learn about new technology."
Today however, the San Francisco Chronicle managed to uncover some more concrete information about the plans for the barges including an artist's impression of what the barge will look like.
Fish fins
As you can see in the image above the barge is set to be an "unprecedented artistic structure" featuring sails "reminiscent of fish fins, which will remind visitors that they are on a seaworthy vessel."
When complete the barge will be 50ft tall and 250ft long made up of recycled shipping containers flanks by the "fish fin" sails. As well as reminding people they are on water, the sails would "provide shade and shelter to guests", could be lowered in bad weather and could be lit up at night - as shown in one artist's impression submitted to the port.
The barge will also be equipped with more than 50 security cameras.
The barge's exhibit space, it says, will be for "local organizations to engage with guests and gain visibility in a unique way."
Temporary
In the documents seen by the Chronicle, By and Large calls the barge a "studio" and "temporary technology exhibit space."
The company adds: "We envisioned this space with community in mind, a surprising environment that is accessible to all and inspires conversation about how everything is connected - shorebirds, me, you, the sea, the fog and much more."
The barge will move around San Francisco bay, stopping in a number of locations for a month at a time, attracting up to 1,000 visitors a day according to the documents.
San Francisco Port spokeswoman Renee Dunn Martin said the pitch, which was submitted in September, was "part of a preliminary proposal. They haven't come back to us with anything concrete."
The barge has been designed by two internationally renowned architect firms - San Francisco-based Gensler, who have previously designed Terminal 2 at San Francisco International Airport, and LOT-EK of New York.