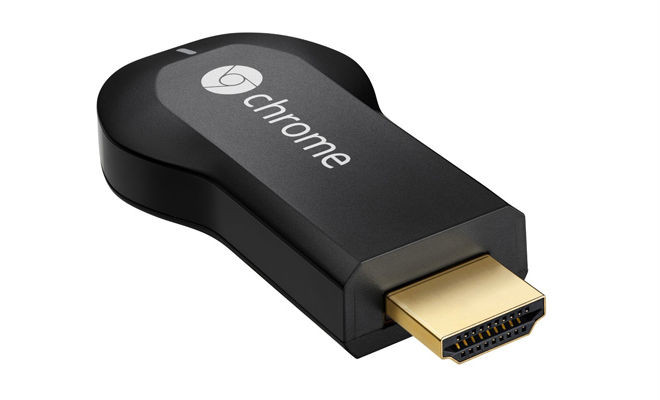 Following weeks of speculation and a major leak earlier this week, Google has finally announced that Chromecast, it's wireless video streaming dongle, is now officially available in the UK.
In a further boost to the company's new device, the BBC announced it would be adding in-app support for the Chromecast device to its very popular iPlayer app for Android and iOS.
The Chromecast device, which plugs into any television with an HDMI port, can be controlled via a user's existing smartphone, tablet, or laptop letting you watch films or TV shows, listen to music or look at photos on the big screen.
Chromecast launched in the US last July costing $35 and has sold millions of units according to Sundar Pichai, Google's vice president overseeing Chrome, Android and Google Apps who was speaking at the SXSW festival earlier this month.
Low cost
The one question which remained about the Chromecast in the UK was pricing, and as expected, Google has kept the price down, with the dongle costing £30.
The Chromecast will is on sale through Google's own Play store, as well as through online retailer Amazon and on the high street in Currys and PC World stores.
Today's announcement means that Chromecast is now available in 12 countries: US, Canada, UK, France, Germany, Spain, Italy, Netherlands, Norway, Sweden, Denmark and Finland.
Chromecast currently works with a limited number of apps though it is supported by heavyweights like YouTube and Netflix as well as Google's own film and music apps.
Delighted
Dan Taylor, head of BBC iPlayer said he was delighted to add support for Google's Chromecast:
"I'm delighted that we've been able to add Chromecast support to BBC iPlayer, providing viewers with another convenient way of getting the BBC programmes they love to watch on demand on the biggest screen in the house."
Chromecast works across a number of different platforms including Android tablets and smartphones, iPads, iPhones, through the Chrome browser for Mac and Windows, and most Chromebook laptops from Google.
Mario Queiroz, director of product management at Google said:
"It should be easy for people to watch the content they want wherever they are, and we're excited to bring the simplicity of Chromecast to international markets."
Google recently released a software developer kit for iOS, Android and Chrome and that should ensure the list of supported apps grows quickly in coming months.