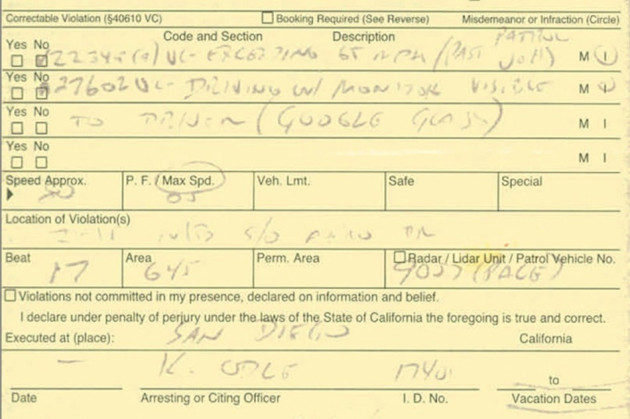 A California woman has become the first person to be fined for driving while wearing the wraparound Google Glass computer headset.
Cecilia Adabie was pulled over by police while driving home in California, and initially told that she was suspected of speeding.
But when the officer noticed that she was wearing the device, he fined her for violating California Vehicle Code 27602a.
Under the statute, it is illegal to "drive a motor vehicle if a television receiver, a video monitor, or a television or video screen, or any other similar means of visually displaying a television broadcast or video signal that produces entertainment or business applications, is operating".
Adabie is a 'Google Explorer', one of a handful of people chosen to trial the device ahead of its release. The device can project information and images in front of a user's field of vision, but Abadie says she is considering appealing against the fine in court as the gadget was not switched on.
"I was wearing it because I do wear it all day, but I was not using it," she told San Diego TV station 10news. "A lot of people don't understand how the device works... and the fact that you're wearing it even if the device is turned on doesn't mean that you're watching it or using it actively."
Legislators in West Virginia and in Arizona have begun moves to ban drivers using Google Glass while at the wheel, and the UK government is also considering imposing restrictions.
Many people took to social networking sites, pointing out that staring at a smartphone screen as it delivers navigation instructions is potentially more dangerous than using a headset.
Mercedes-Benz is developing a means of integrating Google Glass with its in-built navigation system, allowing vehicles to feed information on directions into the device once a journey has been completed and the glass is turned on again.
A Google spokesman told ABC News that users "should always use Glass responsibly and put their safety and the safety of others first."
"More broadly, Glass is built to connect you more with the world around you, not distract you from it," the spokesman said. "It's early days for Glass and we look forward to hearing feedback from Explorers and others in advance of a wider consumer launch next year."