Google Hangouts Takes on BBM and WhatsApp With Free Cross-Platform Messaging
Google takes on BlackBerry Messenger and WhatsApp with Hangouts, a free cross-platform messaging application announced at its I/O 2013 keynote.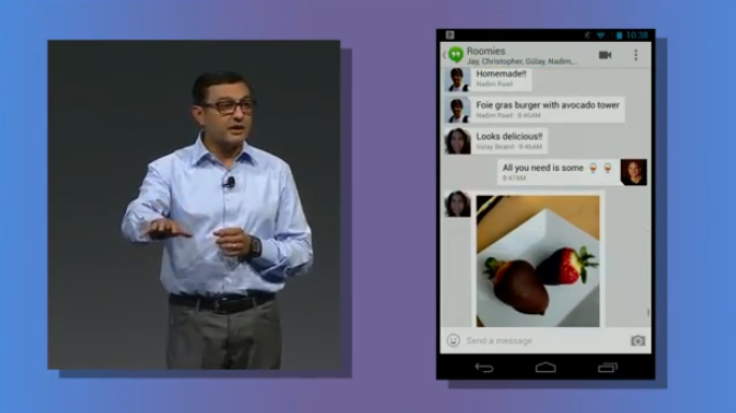 Rumoured for several weeks and previously referred to as Babel, the Hangouts app is available now and goes a long way to tidying up the mess that has been Google's many messaging applications, none of which synced with each other.
Replacing Google Talk, Google+ Messenger and the original Google+ Hangout video chat service, the main selling point of Hangouts is that conversations are synced between devices, so if you read a message on your Android phone the notification on your desktop will disappear.
Available now, Hangouts also includes video chatting between users and across different platforms, so Android users can have a video chat with their iPhone-owning friends; like the original Hangout service, video chats can be had with up to ten contacts at once.
All conversations are stored in the cloud so past conversations can be viewed and photos received months ago can be easily found and shared again, or saved to your smartphone.
Hangouts works much like iMessage does on iOS devices, but where Apple's app only works between its own products, Google has the upper hand by letting its app work across both platforms.
The user interface of Hangouts is made up of a list of conversations rather than contacts, and inside each conversation thread you can see how your contacts are participating and who has read a message or looked at a certain image.
Earlier this week, BlackBerry announced that its BBM messenger service will be opening up to work across multiple platforms; along with WhatsApp, users now have three ways to chat for free with friends on various mobile platforms. The pressure will now be on Apple to open up iMessage, although we can't see that happening anytime soon.
Google also used its three-hour I/O keynote to announce a music subscription service to rival Spotify and Android gaming features similar to Apple's iOS Game Center.
Must Read:
Google Play Music All Access Rivals Spotify in Music Subscription Market
Google Play Game Services Bring iOS Game Center Rival to Android
Google Hangouts Takes on BBM and WhatsApp With Free Cross-Platform Messaging
© Copyright IBTimes 2023. All rights reserved.