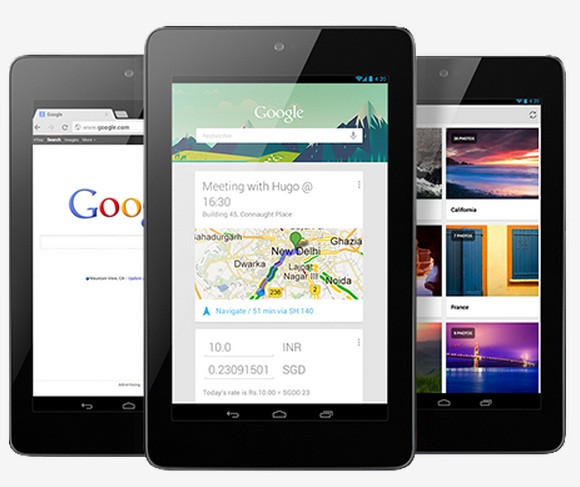 Google might just follow its pattern of launching tablets and unveil a Nexus 9 slate to compete against Apple's iPad Air, according to Digitimes. The publication went on to report that Google will launch two new Nexus tablets in 2014.
Apart from the expected update to the Nexus 7 7-inch tablet, Google is reportedly working on a brand new 8.9 inch tablet that will feature a high resolution display which will best the iPad Air's Retina display.
"Although Google may still release a smaller-size model in 2014, its strategy of skipping most of the sizes in the 8-inch range and going for an 8.9-inch display – a size that (could) be categorized as large-size tablet (9-inch and above) – shows that the Internet giant is starting to shift its focus to large-size tablet applications," wrote Digitimes Research analyst Jim Hsiao.
The purported Nexus 9 tablet will get its name from the fact that its screen is almost 9 inches in size. While it might sport a display that's an inch smaller than Apple's extremely successful iPad Air, Google might pack its slate with some phenomenal hardware to stay ahead of the competition.
The search-giant is expected to release a new tablet with a low price just like it did with the Nexus 7, which offered excellent hardware at rock-bottom price.
ThinkDigit believes that Google is trying to push other manufacturers to manufacture even larger tablets (over 12-inches).
The report goes onto to add that Google's Nexus 9 tablet might be the first to ship in July with the upcoming Android 5.0 operating system, which is expected by some to be unveiled during the annual Google I/O developer conference in June.