Google Nexus 10 Vs Samsung Galaxy Note 10.1
We compare Samsung's latest 10in tablet, the Galaxy Note 10.1 with Google's first own-branded 10in tablet, the Nexus 10.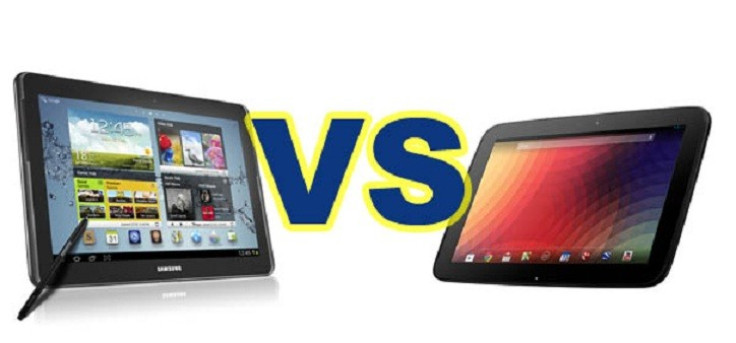 Announced at Mobile World Congress in February, the Samsung Galaxy Note 10.1 hit the UK market in mid-August. The Note 10.1's unique selling point is it's pen input technology, known as S-Pen which is used in combination with the S Note software to create a virtual notepad, that allows users to combine notes or sketches together with multimedia content into their persionalised storyboards.
Take a look at how the Galaxy Note 10.1 stacks up against Google's newly released Nexus-branded, Samsung-manufactured tablet, the Nexus 10, featuring the latest version of Android, codenamed Jelly Bean.
Galaxy Note 10.1 vs Nexus 10: Display
The Galaxy Note features a 10.1in PLS display with a resolution of 800 x 1280 pixels and pixel density of 149 pixels per inch (ppi).
With a large display, the Note 10.1 provides multi-screen functionality to maximise efficiency in learning, work and other creative actions. The multi-screen feature also enables users to perform several tasks, by viewing internet pages, videos or other applications side-by-side while writing or drawing.
Google's new Nexus-branded tablet has a 10in display with uses PLS LCD technology for better viewing angles, and is protected by toughened Corning Gorilla Glass 2. Purely in terms of screen resolution, the Nexus 10 is the best on the market, with a resolution of 1600 x 2560 pixels and 300ppi. The resolution and pixel density of Nexus 10 are even higher than those of Apple's newly launched fourth generation iPad featuring Retina display.
The Nexus 10 with more than four million pixels promises a clearer and vivid viewing experience with Google claiming "the Nexus 10 is a tablet with the world's highest resolution display."
Galaxy Note 10.1 vs Nexus 10: Dimensions
The Note 10.1 and Nexus 10 are almost identical in terms of footprint, and are identical when it comes to thickness, measuring 8.9mm. This is slightly thinner than the 9.4mm iPad 4.
In terms of weight, Google's Nexus 10 tablet is just three grams heavier than the Galaxy Note, at 603g.
Galaxy Note 10.1 vs Nexus 10: Operating System
The Note was first shipped with Android 4.0 (Ice Cream Sandwich) and Samsung's own user interface, called TouchWiz. Samsung has begun rolling out Android 4.1 (Jelly Bean) for the Note 10.1 however there is no official word on when the device is scheduled to receive Android 4.2 (Jelly Bean) software update.
The Nexus 10 was launched with Android 4.2, which was announced alongside the new Nexus devices. The Jelly Bean software brings several new features including the camera app called Photo Sphere, Gesture Typing, Daydream, enhanced Google Now, Google Search and Android Beam. It adds support for wireless display which enables users to share movies, YouTube videos and other videos and images on their TVs.
Galaxy Note 10.1 vs Nexus 10: Processor
The Note 10.1 uses an Exynos 4412 chip featuring a quad-core Cortex-A9 processor, paired with Mali-400MP graphics unit. The quad-core processor runs with a clock speed of 1.4GHz.
The Nexus 10, in contrast, is powered by Exynos 5250 chip featuring a dual-core Cortex-A15 processor paired with Mali-T604 graphics unit. The processor runs at a clock speed of 1.7GHz. Both Note 10.1 and Nexus 10 have a huge RAM of 2GB.
It recently emerged that a vulnerability affecting several Samsung smartphones and tablets powered by Exynos 4210 and Exynos 4412 processors. Samsung is yet to confirm the security flaw but did confirm it was "in the process of conducting an internal review."
Galaxy Note 10.1 vs Nexus 10: Camera
Samsung's Galaxy Note has a five megapixel rear-camera with auto-focus, LED flash and geo-tagging. The camera can capture 720p video at 30 frames per second. The tablet also has a 1.9 megapixel front-camera.
The Nexus 10, like the Note 10.1, features a similar resolution main camera with technologies including auto-focus, LED flash, geo-tagging, touch-focus and face detection. The camera can record 1080p video at 30fps.
The Nexus 10 and the Note 10.1 share a similar resolution front-camera as well at 1.9megapixel. The front-camera of Nexus 10 allows users to video chat with up to nine friends at once with Google+ Hangouts.
Note 10.1 vs Nexus 10: Connectivity
The Note offers Wi-Fi 802.11 a/b/g/n, Wi-Fi direct, dual-band, Wi-Fi hotspot and Bluetooth v4.0 with A2DP. The device supports data speed up to HSDPA 21Mbps and HSUPA 5.76Mbps.
The Nexus 10 also offers 802.11 b/g/n, Wi-Fi direct, DLNA, Bluetooth v3.0 with A2DP and dual-side NFC. The tablet with its advanced MIMO Wi-Fi technology reportedly provides web browsing speed up to 4x faster than normal Wi-Fi.
Galaxy Note 10.1 vs Nexus 10: Storage
The Note 10.1 and the Nexus 10 come in two storage variants: 16GB and 32GB. But the key difference is, the Note supports microSD card for additional storage expansion while the Nexus 10 does not have this storage feature.
Galaxy Note 10.1 vs Nexus 10: Battery
The Note 10.1 runs on a huge battery of 7000mAh with Samsung promising the battery provides 74 hours of talktime on 2G and 37 hours on 3G. Similarly it delivers a claimed standby time of 2490 hours on 2G and 2080 hours on 3G.
The Nexus 10 packs a battery which is comparatively bigger than the Note 10.1's at 9000mAh. This battery, according to Google, provides up to nine hours of video playback and more than 500 hours of standby time.
Galaxy Note 10.1 vs Nexus 10: Price
For the majority of consumers cost is a key consideration when buying a tablet. The 16GB Nexus 10 is £80 cheaper than the 16GB Wi-Fi variant of Note 10.1 and £180 than the 3G version of Note 10.1 with similar storage capacity.
Nexus 10
16GB Nexus 10: £319
32GB Nexus 10: £389
Note 10.1
16GB Note 10.1 Wi-Fi: £399
16GB Note 10.1 3G: £499
© Copyright IBTimes 2023. All rights reserved.