Google among San Francisco Tech Firm Protest Targets over Cost of Living Squeeze
Rising rents and evictions blamed on 'tech elite' squeezing life from city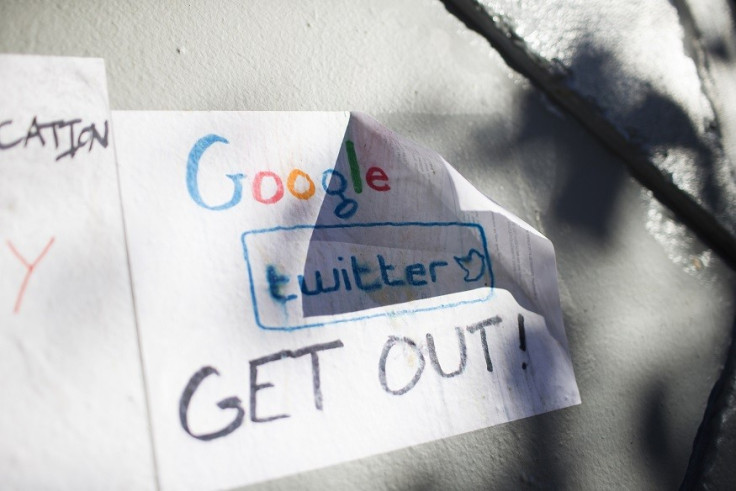 Search giant Google has been hit by protests against the rising cost of living in San Francisco.
Demonstrators worried about rental prices surrounded a double decker bus transporting staff members to work at Googles HQ, 35 miles south of the city centre
The Google commuter bus was targeted amid claims thta the transport service - which is free for staff to use - deprives public transport of vital revenue. Opponents also claimed that blue chip technology firms such as Facebook, Twitter and Google were to blame for rents going up in the city by recruiting thousands of employees.
Protesters with the Heart of the City group gathered around the vehicle waving placards bearing slogans such as "San Francisco not for sale" and "Stop evictions now".
Google employees aboard the bus condemned the action. One likened it to a siege, while a Google style editor called it "dumb," tweeting: "Don't hate on me for my job. This protest is dumb."
Graffiti has appeared on walls in San Francisco reading "Google Scum" as the debate about the impact that tech firms have on the community heats up.
Protest organiser Erin McElroy, 31, said the commuter bus was symbolic of a new elite class of technology workers squeezing established communities.
He told Reuters: "It's creating a system where San Francisco is being flooded with capital, and creating a technology class where other people can't compete."
Supporters of the shuttle buses said they eased pressure by taking thousands of cars off the road. The city's transport agency was bringing in a compromise solution to address residents' concerns in January. A Google spokeswoman said the search giant was cooperating with the scheme. She said: "We certainly don't want to cause any inconvenience to San Francisco residents."
Evictions in San Francisco jumped by a quarter in the 12 months to February. Average rents in San Franciso rose 10% over the past year.
© Copyright IBTimes 2023. All rights reserved.