Google has announced that in opposition to the proposed Stop Online Piracy Act (SOPA), the search engine will post a statement on its home page, but would not resort to black out. Wikipedia, Redit and Boing Boing along with over a hundred other sites will "go dark" at midnight on January 18 (Eastern Time) in protest against the proposed law to curb piracy.
"Like many businesses, entrepreneurs and web users, we oppose these bills because there are smart, targeted ways to shut down foreign rogue websites without asking American companies to censor the Internet. So tomorrow we will be joining many other tech companies to highlight this issue on our US home page," the Washington Post quoted a statement put out by Google's news team.
So far Facebook and Twitter have not joined the protest.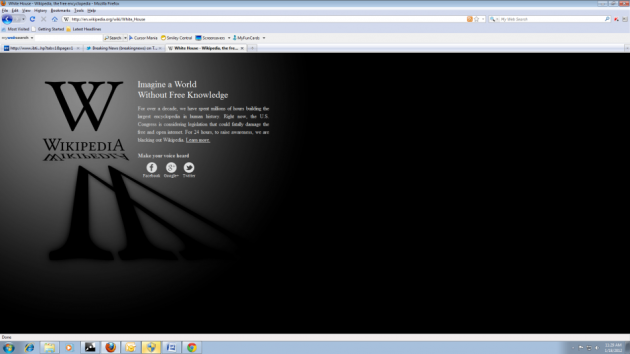 Wikipedia will black out its English content for 24 hours on January 18 (Eastern Time) but its US page will have arguments against SOPA (which has been introduced in the House of Representatives) and the Protect Intellectual Property Act (PIPA, which is with the Senate). Both SOPA and PIPA, drafted to curb piracy, will be presented in the respective houses to pass them in their original form on January 18.
The websites are against a clause which allows US authorities to block an entire website for infringing copyright laws. The authorities will also have the right to block all earnings of the website. Entertainment companies, publishers, pharmaceutical firms and many industry groups lose billions of dollars each year to piracy.
The bill will be discussed in the US Congress. The US President Barack Obama has hinted he may dilute some of the contentious proposals.
Big Brother Watch, UK's watchdog group, which campaigns for privacy, freedom and civil liberties has backed the protest and will shut down its site for 12 hours.
BigBrother Watch in statement said many of UK's websites run from the US and services of those sites might be affected due to this law.