Some pieces of technology are attractive beyond merely what features they have and what they can do. Some have a real beauty to them, and while it is easy to call out smartphones from Apple and Samsung here, others also instill in their admirers a desire to reach out and pick them up.
The DJI Phantom drone range is a good example here. You will find yourself picking it up, feeling its sturdy heft and casting an eye over its sleek design; even though the battery is flat and it's raining outside, you still get joy from inspecting it.
GoPro cameras are exactly the same, and none more so than the one you see here, the Hero 5 Session. A tiny cube-shaped gadget, the Session is little more than a lens, microSD card slot, simple display, battery and two buttons packed inside a novelty-sized snooker chalk.
The aesthetics of a hardy, go-anywhere action camera like this shouldn't matter one iota; you slot it into a case, strap it to your helmet, hit record and barrel down a mountain, or a waterfall, or the Cresta Run. But for some reason design still matters and the Session passes with flying colours. There are dozens of far cheaper cameras this size on eBay and Amazon promising similar video quality, but none exude the premium finish and expensive-feeling weight of the GoPro.
Switch it on (after four long paragraphs...sorry) and, with one more press of the same button, the Hero 5 Session starts recording Full HD or Ultra HD video. Video resolution and frame rate are shown on a small grey-scale display and settings are adjusted with careful use of the camera's only two buttons. We say careful because it can be quite fiddly and unclear exactly how to change anything.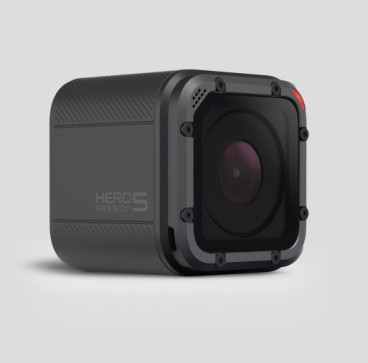 But most GoPro users are unlikely to dig into the settings all that often, so there's no harm in consulting the instructions on the few occasions you need to adjust something. For a deeper dive into the settings menu, you can pair the Session to the GoPro smartphone app (iPhone and Android), which also acts as a mobile viewfinder and a way of remotely controlling the camera.
Speaking of control, the Session gets the same new voice commands as the Hero 5 Black. This means you can tell the camera to start or stop recording, take a photo, shoot a timelapse or burst of images, and add a highlight marker to an exact point in your recording.
This is useful when the camera is nearby but your hands are busy, such as while mountain biking with the GoPro attached to your helmet. The Hero 5 Session understands 10 languages, including English, French, German, Spanish, Chinese and Japanese.
The camera shoots higher quality video than the Hero 4 Session thanks to less noise and grain, more detail and a higher dynamic range; the soft footage of its predecessor is no more. There's a new option to shoot 4K video at 30 frames per second (although in most cases 1080p at 60fps will be more useful), and still images have been bumped up from eight to 10 megapixels, but this is still an area where the Session plays second fiddle to the Hero.
Another feature shared with the Hero 5 Black is GoPro's new EIS, or electronic image stabilisation. Instead of physically stabilising the lens elements, as some smartphones do, the Hero 5 Black and Session use software to remove unwanted jolts and shakes. It works well to smooth out jumpy video, but can't quite perform miracles.
Waterproofing to 10 metres (33 feet) is included as before, and so is the option of buying a case to protect it from greater depths or attach it to just about anything.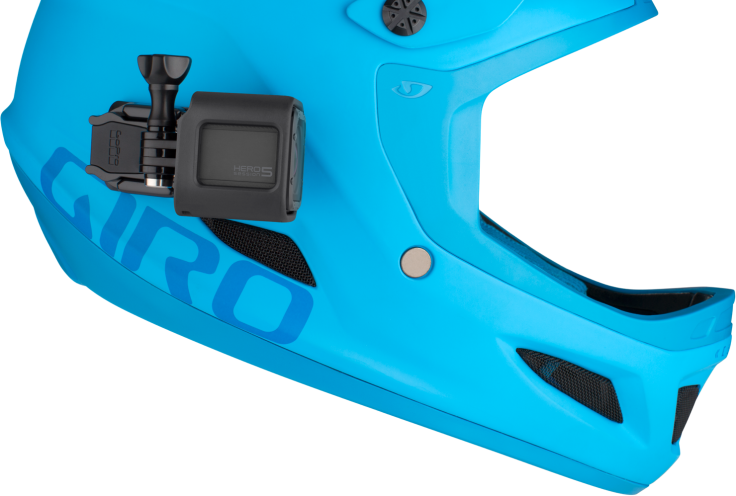 So far, so good. But this is the point where we find out why the Session costs £100 less than the Hero 5 Black. There is no touch screen to view footage (phone app is useful here), and there is no GPS to add location data to the video and images you shoot – but the biggest drawback is the lack of a removeable battery.
Where with the Hero 5 Black you can buy multiple batteries and swap them in a matter of seconds, the Session's is permanently installed and inaccessible. So when it runs out you'll need to stop shooting and recharge, or attach a USB battery pack; this could be fine in some circumstances, but requiring the Session's flap to be open means shooting underwater while recharging is a no-no. We found 4K recording would last for about 50 minutes, while Full HD would get close to two hours, which should be plenty for most users. Recharging takes around an hour through the USB Type-C port.
Our verdict
GoPro makes the best action cameras, this much is clear. Whether you go for the Session or spend £100 more on the Black is now less about image quality and more about how you intend to use it.
If day-long video shoots are your thing then the Session's fixed battery will be a problem. But with its more compact size (albeit only slightly, given it is narrower but deeper), slightly better battery life and a lower price which is unaffected by lesser quality or a smaller feature set, the Session 5 is a worthy companion for whenever you're feeling creative.