GoPro, the company that has made its name producing small high-definition wearable video cameras that are popular with sporting enthusiasts like surfers and cyclists, has decided to branch out into consumer helicopter drones.
According to the Wall Street Journal, GoPro is developing its own line of multi-rotor helicopter drones equipped with HD cameras that are expected to retail for between $500-$1,000 (£318-£636) when they launch late next year.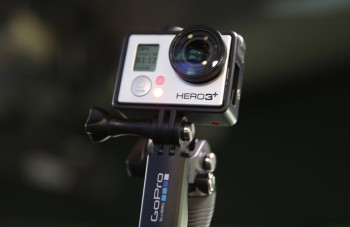 GoPro specialises in making tiny cameras weighing just 110g that are waterproof and rugged.
Costing between £100-£370 each, the cameras come with built-in Wi-Fi and software, as well as optional special mounts and wearable harnesses to capture fast-action sequences and point-of-view shots on the go in resolutions of up to 1080p at 60 frames per second (fps).
Due to their attractive size and high video and photography quality, many GoPro cameras are already being attached to helicopter drones by enthusiasts.
It is believed that GoPro may be seeking to compete with unmanned aerial vehicles (UAV) manufacturers like DJI, one of the leading suppliers of multi-rotor drones in the world, which is now launching new quadcopters that come with on-board cameras, which would potentially cut GoPro out of the picture.
The rise of the flying drones
Helicopter drones have become quite popular in the last 12 months and there are now a plethora of UAVs that can be purchased off the shelf by anyone from places like Amazon for between £100-£300.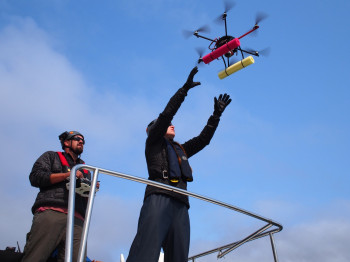 There have been concerns that some amateur drone enthusiasts are misusing UAVs to spy on members of the public and private property, although the technology has also been used by individuals to aid the police in locating missing people.
Flying drones are now in the process of being banned from all US national parks, and the Federal Aviation Administration (FAA) does not currently permit individuals to use their UAVs to deliver packages or take aerial photos and videos for monetary gain.
Numerous businesses are also keen to start using helicopter drones for commercial use and have been lobbying the FAA, including Amazon with its PrimeAir drone package delivery service and Google's Project Wing delivery service.
Disney has filed patents seeking to use drones to support giant puppets in the air and to create huge remote-controlled light shows at its Disneyland parks, while theatrical entertainment company Cirque du Soleil has released a 10-minute-long video featuring flying quadcopter drones disguised as magical lampshades dancing and interacting with a performer on a sound stage.
Despite the extensive interest, so far the FAA has granted permission to BP to use the technology to survey its oil field pipelines and well pads in Alaska, and Hollywood filmmakers may use helicopter drones for filming, but only in closed film sets with three people operating the drone.
Meanwhile in Europe, DHL is trialling a drone medication delivery service on a remote German island, while the UK House of Lords is hearing evidence from witnesses in industry, aviation and policing regarding civilian drone use.